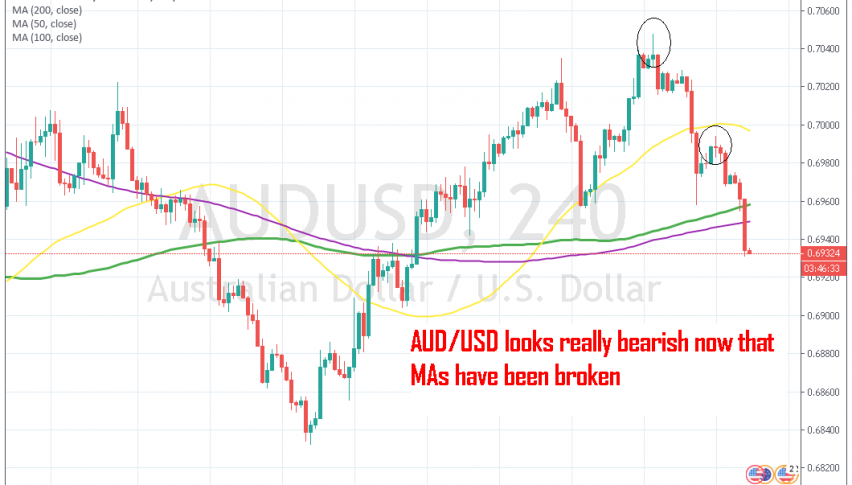 AUD/USD Breaks MAs on the Way Down as the Buck Turns Bullish
AUD/USD has been pretty bullish since the middle of June when it made a bullish reversal at 0.6830s. Since then, this pair has climbed more than 200 pips, although, this bullish didn't come as a result of AUD strength. This move is attributed to some increased USD weakness in the last several weeks due to the fact that the FED turned dovish in the last meeting and the odds of a rate cut increased to nearly 100%.
Although, those odds have been declining since two weeks ago, as the sentiment improved after the positive tones of the G20 summit, as well as after seeing some decent economic figures from the US during this time. As a result, last week we saw a bearish reversal on the H4 chart, after this pair formed an upside-down hammer candlestick at the top, which is a strong reversing signal.
The price broke the 50 SMA (yellow) last week which had provided support the week before, so that was a sign that the trend was about to shift to bearish. Although, it wasn't a sure thing until the other moving averages had broken. The price retraced higher at the end of last week and formed a doji to close the week, which is another strong reversing signal. Yesterday the bearish move resumed again and today we see that the 100 and the 200 SMAs have been broken.
Now the bearish trend is in full swing as the USD advances across the board. The USD is getting its confidence back, which isn't too surprising considering that the rest of major economies around the globe are in a really weak spot, much worse than the US economy. Now, I am turning dovish on AUD/USD again and will be looking to sell this pair if it retraces higher to the two MAs around 0.6959-60.