US ISM Non-Manufacturing Gives the USD the Killing Blow
The USD has been the only thing to turn to, in this global economic weakness. All other major currencies are pretty risky to buy as the major economies have been slowing considerably. But, after the deeper contraction we saw from the US ISM manufacturing report for that sector, the USD was put into question as well.
The USD turned bearish, but traders were waiting for the ISM non-manufacturing report today, so the decline stalled during the European session. But, the ISM non-manufacturing number came in pretty weak as well, so the USD resumed the bearish trend. Here are the details of the non-manufacturing report:
Headlines:
ISM non-manufacturing index 52.6 vs 55.0 expected
Three-year low
Prior was 56.4
Estimates ranged from 54.0 to 57.5
Details:
Prices paid 60.0  versus 58.2 last month
New orders 53.7 versus 60.3  last month
Employment 50.4 versus 53.1  last month – lowest since Feb 2014
Backlog of orders 54.0 versus 49.0 last month
Inventory change 53.0 versus 55.0 last month
Inventory sentiment 58.0 versus 56.0 last month
New export orders 52.0 versus 50.5 last month
Imports 49.0 versus 50.5 last month
Business activity 55.2 vs 61.5 last month
This is a three year low and details don't look too good. New orders declined considerably but at least, new export orders increased. Now, the USD has turned bearish once again and it's declining across the board on fears that the US economy might head into contraction.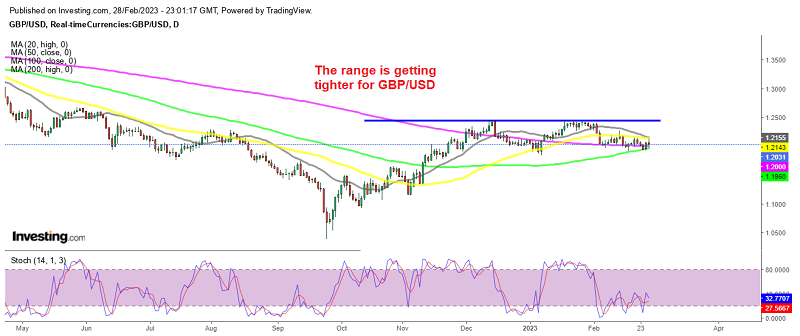 3 months ago
GBP/USD is testing the 200 daily SMA for the second time, which held for the second time last Friday
3 months ago
USD/CAD surged 150 pips higher today as the USD buyers returned, although it's the first trading day of 2023
5 months ago