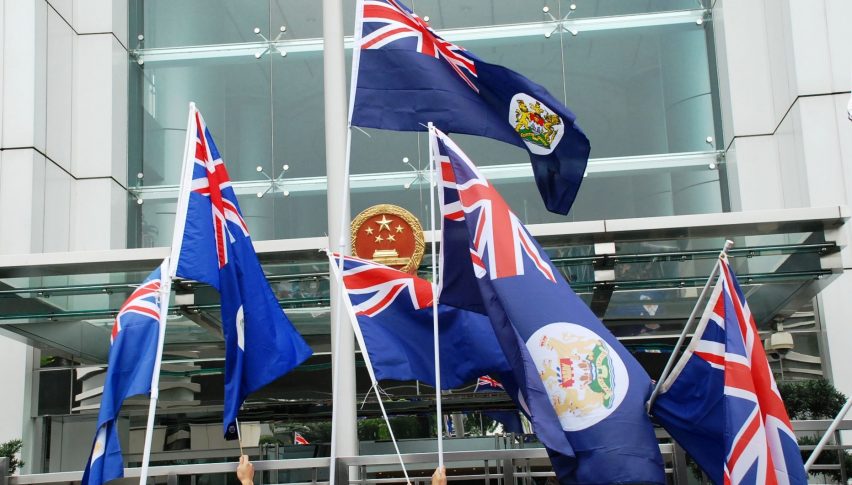 Forex Signals US Session Brief, Nov 20 – Quiet Markets As We Head Towards the FOMC Minutes
Posted Wednesday, November 20, 2019 by
Skerdian Meta
• 3 min read
The sentiment has been mostly positive in financial markets this week, with S&P trading at record highs yesterday. Safe havens have been under some pressure, but the sentiment reversed overnight. The US Senate passed a human rights bill on Hong Kong and China expressed their displeasure tonight. This increased fears in financial markets that this may add another hurdle to overcome for trade talks, which it should I suppose. So, the trade deal now becomes even more difficult to reach.

Safe havens climbed somewhat, while risk assets retreated a bit. But, that didn't last too long either. The FOMC minutes from the last meeting will be released in the evening and traders are waiting on the sidelines to see what the FED discussed back then. Although, I don't expect much action tonight because we already know that the FED has stalled rate cuts for now and they will be on a wait and see mode in the coming months. If rate cuts start having a positive effect in the economy and the trade war heads towards a solution, then they might resume with rate hikes and vice versa. but for now, not much is expected form the minutes.
The European Session
German PPI – The producer price inflation (PPI) has been volatile in Germany in recent months. In the last six months, PPI has declined four times and increased only twice. Today's report was expected to fall flat for October, but it missed expectations, declining by 0.2%. YoY PPI also moved lower to -0.6% against -0.4% expected, down from 0.1% last month.
ECB's Lane Doesn't Like Inflation Figures – ECB chief economist, Philip Lane commented this morning, saying that current inflation rate is "unsatisfactory". He trusts that monetary stimulus will allow inflation to grow, sees Eurozone economic recovery in the next year or two. Economy is growing less than hoped, but does not expect a recession.
China Commenting on Hong Kong Bill – China reiterated their opposition to the US bill on human rights in Hong Kong. China foreign ministry said that the US' Hong Kong bill neglects facts and truths. I suppose this will increase tensions again, despite China begging for a trade deal. But, we all know what's going on in Hong Kong and it's about time the US made a strong move.
Russia playing the Oil Game – Russia's Energy Minister Novak said earlier today that Russia aims to reduce oil output to OPEC+ target in November. But Russia hasn't exactly been keeping up their end of the bargain in the OPEC+ pact and overnight report suggested Russia also isn't inclined to pursue deeper cuts in next month's meeting in Vienna and that is hardly a surprise.
ECB's Makhlouf feels Pessimistic About the Economy – ECB governing council member, Gabriel Makhlouf said a while ago that he is seeing protracted weakness in the Eurozone. Macroeconomic outlook is 'mixed', so he endorses call for review of monetary policy strategy.
The US Session
ECB's de Guindos Promises Unlimited QE – ECB vice president, Luis de Guindos was speaking earlier today, saying that side effects of monetary policy are becoming increasingly evident. He added that QE program won't hit limit in the short-term, so free cash to last forever then.
Canadian Inflation Report – CPI is expected to turn positive in October, after declining by 0.4% in September. Headline inflation came out as expected from Canada, with CPI increasing at 0.3% in September. CPI YoY remained unchanged at 1.9% vs 1.9% expected. CPI YoY excluding gasoline came at 2.3%. Median came at 2.2% as expected (prior 2.2%, revised to 2.1%). Common CPI remained unchanged at 1.9% vs 1.9% exp (prior 1.9%), trimmed mean CPI YoY also remained unchanged at 2.1% vs 2.1% exp (prior 2.1%).
More Impeachment News For Trump – The US Ambassador to the European Union Gordon Sondland is on the docket today and his opening statement has found its way into the press. He will say that Trump directed his personal lawyer Rudy Giuliani to pursue a "quid pro quo." "Mr. Giuliani's requests were a quid pro quo for arranging a White House visit" for Ukraine President Volodymyr Zelenskiy, Sondland will say according to reports."Mr. Giuliani was expressing the desires of the President of the United States, and we knew that these investigations were important to the President."
Trades in Sight
The trend is bearish
The retrace higher is complete
The 50 SMA is providing resistance
The 50 SMA has ben providing resistance for the last two days
EUR/GBP turned really bearish by the middle of last month, after the UK government and the Eu reached a Brexit deal. The deal was rejected by the UK Parliament, but polls show that Boris Johnson will gain a majority in the UK parliament after December 12 elections, so the GBP has remained bullish. Although, we have seen a retrace higher in EUR/GNP this week after the decline last week, but the retrace is complete now and the 50 SMA (yellow) has been providing solid resistance, so we are short on this pair.
In Conclusion
The risk mood turned sour in financial markets today after another issue arose between US and China, Hong Kong. Safe havens were climbing early today, but the volatility declined and i expect markets to remain quiet as we head into the FOMC minutes release later in the evening. But, I don't expect much from the minutes either, as we already know almost everything the FED thinks right now, which is, wait and see.