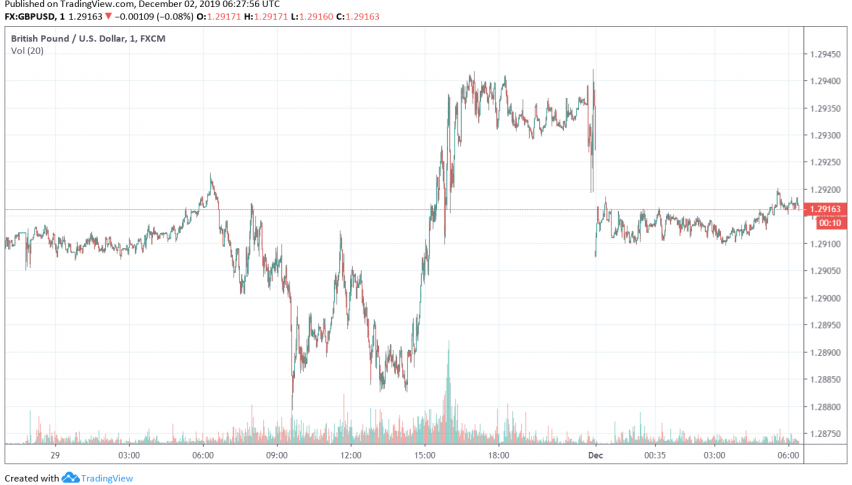 GBP/USD Weakens Slightly as Conservatives' Lead Narrows
Posted Monday, December 2, 2019 by
Arslan Butt
• 1 min read
At the start of a fresh trading week and as the election date nears, the Pound has slipped slightly lower against the US dollar as the Conservatives' lead narrows further in the run up to December 12. At the time of writing, GBP/USD is trading at 1.291.
A recent poll by The Independent reveals that the lead predicted for the Conservatives has reduced by more than half, threatening the possibility of the UK heading towards a hung Parliament after December 12. According to latest estimates, PM Boris Johnson's Conservatives now hold only a six-point lead over the Opposition Labour Party.
A poll by BMG Research also indicates growing support for Opposition leader Jeremy Corbyn with the Labour Party's ratings surging five points higher to 33%. Meanwhile, the Conservatives' ratings now stand at 39%, two points lower than the previous week.
Analysts anticipate that the Conservatives will need at least a six-point lead over the opposition to successfully pass Johnson's Brexit Bill through the UK Parliament and to "get Brexit done" by Christmas, as Johnson has been campaigning. Despite his assurances on sorting out Brexit before the next deadline of January 31, 2020, Johnson has come under crticism over his past attacks on single mothers and working class men, as well as over the recent terror attack at the London Bridge.