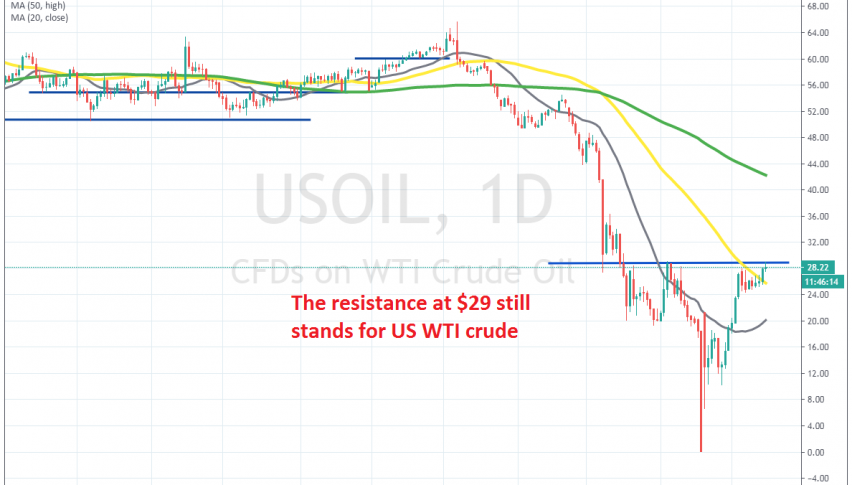 Oil Waiting For the Global Reopening at the 50 SMA
Crude Oil has been having a really interesting time this year, but the most interesting period was from late February until last week. At first, US WTI Crude Oil dived from above $50 to below $20 in March, as coronavirus pandemic sent the world into shutdown.
We saw a bounce from there in the first few days of April; after OPEC+ decided to cut production by 9.7 million barrels/day. But, that didn't last long, as Saudis kept flooding markets with cheap Oil and US WTI crude fell below $0, reaching -$37.50 at some point by the middle of April.
But, the price reversed up and, after finding resistance at the 20 SMA (grey) on the daily chart, Crude Oil eventually broke above it. Buyers pushed up to $28, but they ran into the 50 SMA, which stopped the climb and has been providing resistance since then.
That is also a resistance area, with $29 providing resistance earlier in March and the big round level at $30 above. Oil has been trading around the 50 SMA for more than a week now. This is a crucial time for Oil and the global economy, because it's the reopening phase. Some politicians still want to keep their people in house arrest, while the public and other politicians want to reopen and go back to normal life.
If the opening side wins, which is the vast majority of people, then Crude Oil should rally higher. Although, it will remain to be seen if the rally will be sustained, since the economies have fallen into a deep recession and a large number of businesses might not reopen. But, one step at a time.