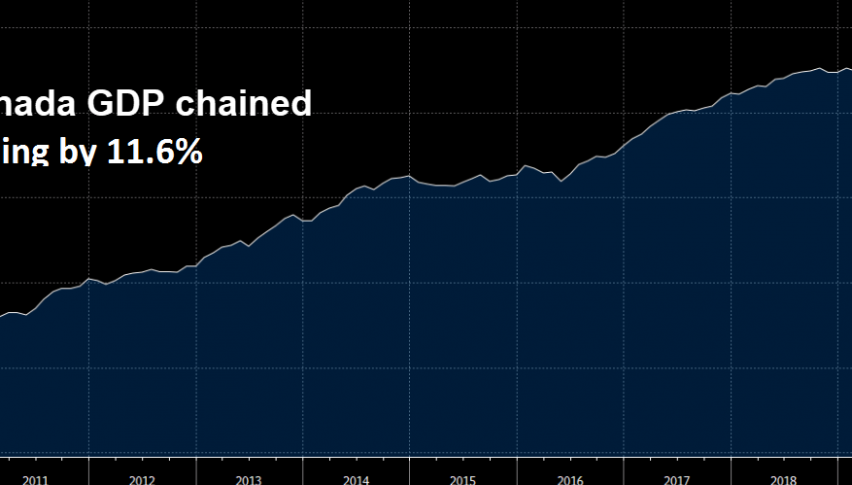 Canadian GDP Tumbled Further in April
The Canadian economy was holding up well last year, while he rest of the globe was weakening due to the US-China trade war. But, the coronavirus came and ruined everything for everyone. In March the economy contracted by 7.2%, as last month';s report showed, but it was revised lower today to -7.5%. In April, the contraction was deeper, as the GDP became 11.6% smaller in just one month. That's the biggest contraction ever.
Canada April 2020 GDP Data
April GDP -11.6% vs -12.2% m/m expected
Worst month on record
March was -7.2 m/m (revised to -7.5%)
GDP contracts 17.1% y/y vs -17.1% expected
Through March, GDP contracted 5.8% y/y
Flash May estimate +3.0% m/m
Manufacturing sector -22.5% in April
Construction sector -22.9%
Retail trade -22.9%
Transportation and warehousing -23.1%
Accommodation and food services sector -42.4% in April and -64% from Feb
The headline beat is matched by the prior revision and that put the y/y in-line with expectations. In any case, a decade of GDP growth has been wiped out in two months.  The Canadian dollar took the report in stride and was largely unchanged.
We have some important economic events this week, although crude Oil is under spotlight as China's economy should show a rebound
4 weeks ago