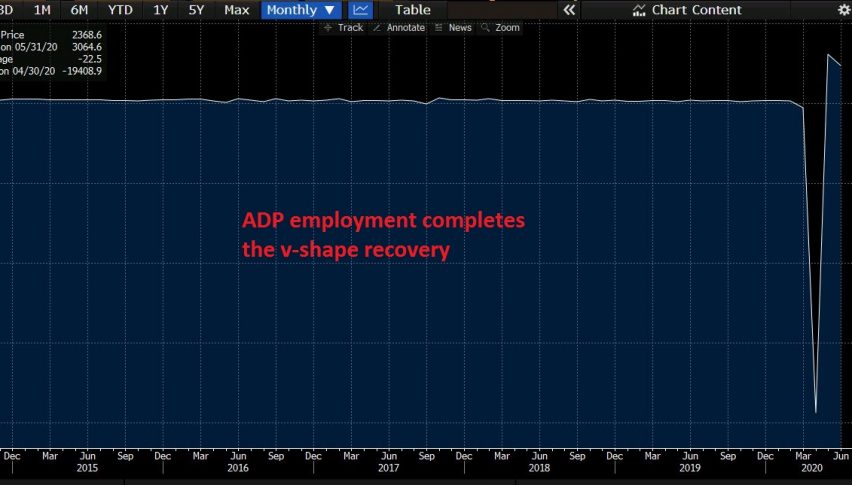 Great ADP Employment Figures From the US
Employment was hit very hard during the pandemic  in the US, with unemployed people reaching 40 million. ADP non-farm employment turned negative in March, declining by 27K, while in April the decline in employment was more than 20 million. Last month's report showed that ADP employment declined again in May 2.75 million, but that was revised higher today to more than 3 million. That was a positive sign for the US economy and in June employment grew again.
ADP employment change for June 2020
The ADP employment change for June 2020 at 2,369K vs. 2,850K estimated
Prior month revised 2,3065K vs. minus 2,760K estimate. A 5.8 million increase from the prior month. Recall non-farm payroll surprised to the upside in May
Goods 457K
services +1.9 million
the US nonfarm payroll estimate is for a gain of 2.9 million will be released on Thursday
small businesses added 937K
medium businesses added 559K
large businesses (greater than 499 employees) added 873K
The numbers were less than expectations but the revision was quite large at +5.8 million. However the revision simply catches up to the labor departments number from last month of 2.5 million job additions. The US nonfarm payroll will be released tomorrow at 8:30 AM with expectations of 3.07M new jobs as the consensus. The estimates are quite wide with 9,000K as the high estimate and 500K as the low estimate.
EUR/USD has been heading lower since last Thursday, as we head into the FED rate decision later today
5 months ago