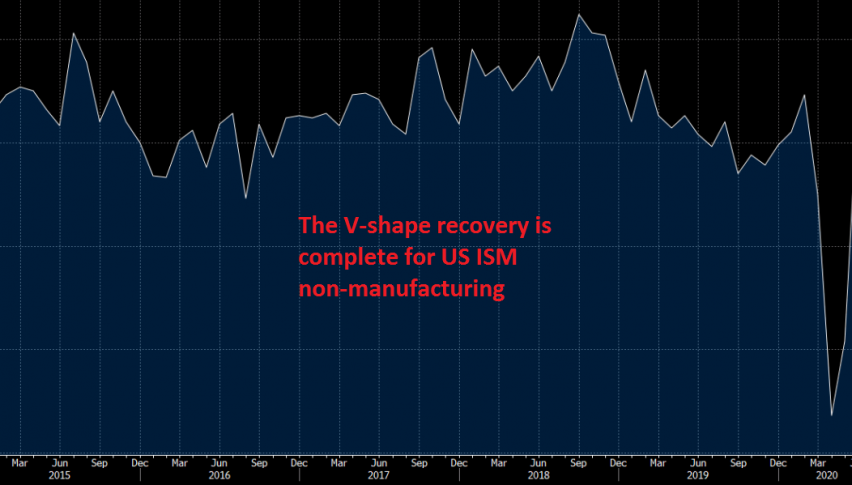 US ISM Non-Manufacturing Jumps in June
The US ISM non-manufacturing PMI indicator showed that this sector was holding up pretty well compared to other sectors last year in the US, as other sectors were softening from the global trade war, as well as from a weakening global economy.
In April, this indicator fell in contraction at last, but the contraction wasn't as deep as in other sectors and it rebounded in May, but remained in contraction. Yesterday's report was quite strong though, showing a big jump in activity during June. This is the best reading in more than a year, apart from march, which was a strange month.
The ISM Non-Manufacturing Index for June 2020
ISM non-manufacturing index 57.1 points vs 50.2 expected
May ISM non-manufacturing was 45.4 points
Details:
Business activity 66.0 points vs 41.0 last month (highest since Feb 2011)
New orders 61.6 points vs 41.9 last month
Employment 43.1 points vs 31.8 last month
Inventory sentiment points 55.9 vs 55.1 last month
Prices paid 62.4 points vs 55.6 last month
Backlog of orders points 51.9 vs 46.4 last month
Supplier deliveries points 57.5 vs 67.0 last month
New export orders points 58.9 vs 41.5 last month
Imports 52.9 points vs 43.7 last month
This is a huge beat but the FX market hasn't responded. Equity futures rose just 0.1% as well.
Comments in the Report:
"Businesses are starting to reopen and the economy seems to be on the road to recovery, but let's not get too complacent, [as] COVID-19 is still a pandemic, [and] a vaccine has not been developed. Economics is the reason for the push for businesses to reopen. Utmost care and awareness still needs to be cautiously and religiously followed." (Accommodation & Food Services)
"Surprising recovery to sales volume over the past four weeks." (Agriculture, Forestry, Fishing & Hunting)
"Sales have picked up tremendously. Sporadic supply issues. Biggest concern for us is lumber shortages." (Construction)
"We are a public higher-education institution. We are expecting budget cuts for fiscal year 2021. Our biggest concern is COVID-19. The plan for a vast majority of higher education institutions is to have students on campus and blend of face-to-face and online classes. However, if students do not effectively social distance, then we could see a dramatic increase in COVID-19 and campuses forced to move to online classes. This will be a major financial blow to revenue for all universities (athletic events, vending, parking, housing, and the like)." (Educational Services)
"We continue to all work from home globally. Strict restriction on travel and external events. Senior management focusing on a plan for returning to the office." (Finance & Insurance)
"COVID-19 has affected us, of course – obtaining PPE supplies has been our focus. Overall census has been very low. Operating rooms, rehab clinics and physician practices were closed or working fewer hours but have since opened back up." (Health Care & Social Assistance)
"Advertisers are starting to place more advertisements and the media business is turning around. Generally, we are at the end of the employee furloughs and layoffs. Our work efforts have been focused on navigating COVID-19. We are now shifting to value-add projects. We are cautiously optimistic, although as we get closer to the presidential election, we are on guard of unprecedented civil and social unrest." (Information)
"Activity level is holding steady, with the potential of a rebound in the near future." (Mining)
"We have seen an overall reduction in our business as a result of COVID-19, with the greatest reduction in the aviation and oil and gas industries. In contrast, the pharmaceutical industry has seen an increase in business during the same time frame." (Other Services)
"COVID-19 and the riots have disrupted the normal flow of business. There is no new normal yet." (Real Estate, Rental & Leasing)