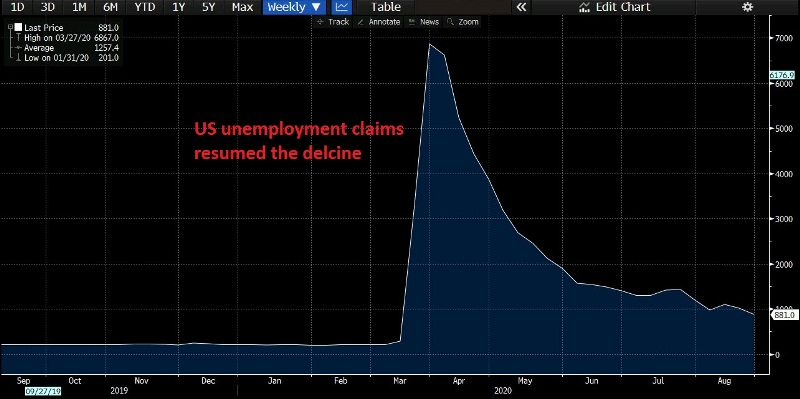 US Unemployment Claims Fall Below 1 Million Again
Employment was one of the hardest hit sectors during the lock-downs, since many people were laid off during that time, as businesses closed. Small businesses continue to close in the US, but employment is getting back to normal, as the country is divided in two parts with different speed.
Jobless claims fell below 1 million in the first week of August, which was a positive sign for the USD, but they increased again, to fall back lower to 881K last week. The US economy is showing resilience in the last two  months, as Europe slows down and today's jobs report shows that, on top of several impressive report we have seen in recent weeks.
So, this should be positive for the USD, but the USD lost around 20 pips after this report instead. Below are the figures for last week:
US initial jobless claims and continuing claims
initial jobless claims 881 vs. 950K estimate
4 week moving average have initial jobless claims 991.75K vs 1069.25 last week
continuing claims 13254K vs 14000K estimate.
4 week moving average of continuing claims 14496.25K vs 15205.25K last week