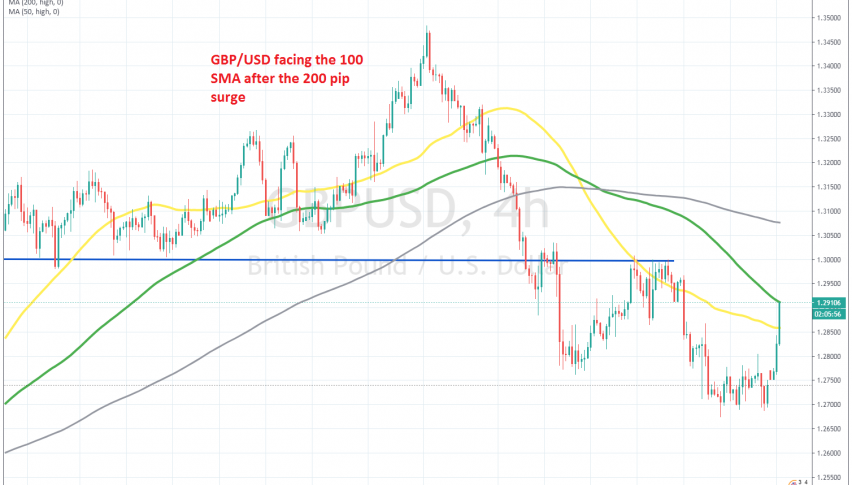 GBP/USD Surges on BOE Ramsden's Comments, Dismissing Negative Rates
The Bank of England has hinted about going into negative rates, if the situation calls for it. That has been one of the reasons for the crash in the GBP/USD since September 1, which has sent this pair more than 8 cents lower. The other reason is because the USD has gained some strength this month.
But BOE member Ramsden commented earlier today that the BOE is not going to implement negative rates now. The GBP/USD has surged more than 200 pips higher from the lows. But it has now met the 200 SMA (green) on the H4 chart, which looks like a good place to sell this pair, since the overall picture hasn't changed for the GBP.
Bank of England Member Ramsden Says:
We are not on the brink of introducing negative rates
 Still see the effective lower boundary at 0.10
BOE will stop easing if the recovery steadily
But there are real uncertainties and risks from the coronavirus, US elections, Brexit
Need to also factor in Sunak's changes to jobs support
Engagement with banks on negative rates will take time
The pound is enjoying his comments on negative rates, as cable pushed to a fresh session high of 1.2852 from around 1.2830 earlier. The BOE's communication on negative rates has been all over the place, so I wouldn't attach too much significance to Ramsden's remarks. But for now, it is enough to give the pound a decent lift, with cable looking to firmly clear its 200-hour moving average at 1.2831.