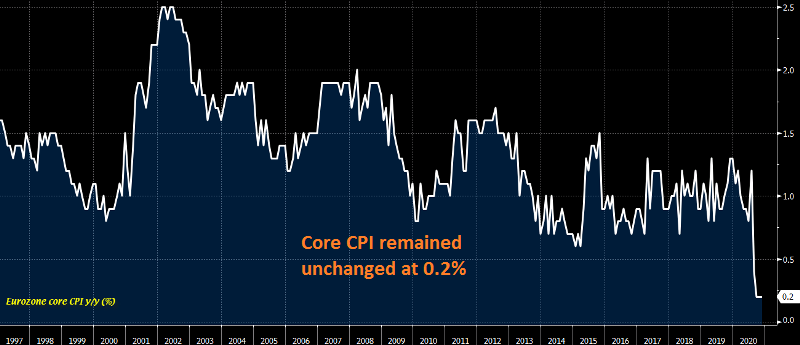 EUR/USD Reverses Close to 1.20 Again, as Eurozone Inflation Remains Negative
Inflation was weakening in the Eurozone earlier this year, during the lockdowns in spring, although it was holding up in positive territory until August. In August, the CPI (consumer price index) turned negative, declining by 0.2% YoY, while in September it fell by 0.3%.
In November, the CPI was expected to tick higher to -0.2% again, but it fell short of the expectations and remained at 0.3%. Below, you will find the inflation report for November:
Latest data released by Eurostat – December 1, 2020
November preliminary CPI -0.3% vs -0.2% expected
October CPI was -0.3%
November Core CPI YoY +0.2% vs +0.2% expected
October core CPI was +0.2%
Eurozone inflation remains more subdued, with the readings unchanged for November, as core inflation stays at a record low. The ECB will be taking further action next month, in an effort to deal with the fallout from the virus crisis, in the hopes that it will inadvertently spur higher price pressure into the new year.
The EUR/USD was climbing towards 1.20 this morning, after it pierced that big round level yesterday and retreated back down. But, it reversed lower today, reaching 1.1980, which is a sign that buyers are perhaps done, now that they have reached that level, and we might see a decent pullback lower in the coming days.
The US consumer is softening as intertest rates go up, which is a factor for the USD retreat and for the FED to stop hikes
16 hours ago