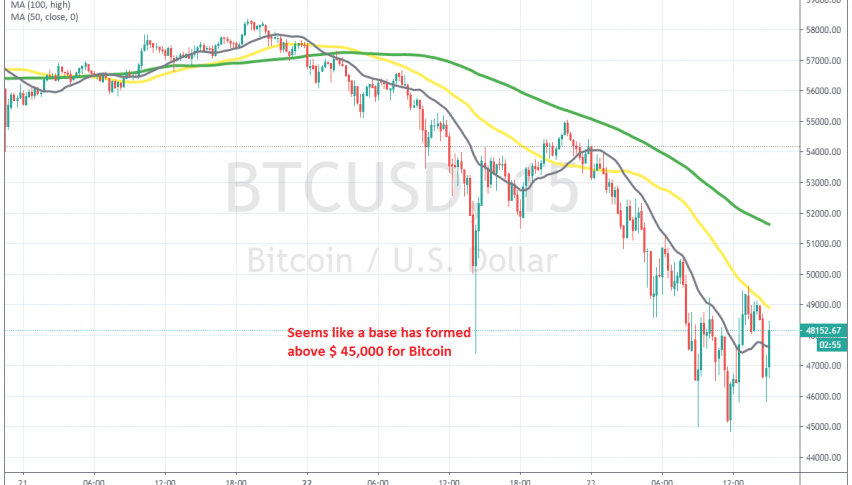 Buying the Pullback in Bitcoin Too
The losses in the crypto market have accelerated today with Bitcoin leading the way after falling more than $ 12,000, as the price slipped  below $50,000. Traders started to bail out on the market's most volatile assets.
Bitcoin was trading around 16% earlier today, trading around $46,000. It bounced below $ 50,000 for a while, but it has reversed back down to $ 46,000s at the moment. While the selling only puts BITCOIN prices at the lowest in about two weeks, traders are deciding whether this is just another retrace in this volatile market, which would offer a good buying opportunity, of if it marks the start of a bigger retreat of the cryptocurrencies.
Cryptos have seen a number of negative comments this week. Long-time crypto skeptic Janet Yellen who is now now US Treasury Secretary under Joe Biden, said at a New York Times conference on Monday that the Bitcoin and other cryptocurrencies are an "extremely inefficient way of conducting transactions."
In an interview on Bloomberg, the Microsoft Corp. co-founder Bill Gates also weighed in. He said that he is not a big fan of Bitcoin and warned against retail investors being swept up in speculative rushes. Nader Naeimi, head of dynamic markets at AMP Capital Investors also said that Bitcoin "It's a pure speculative asset".
That has been weighing on Bitcoin after Elon Musk's comments yesterday that cryptos are overbought and that Bitcoin is not like physical Gold. So, Bitcoin and other cryptos have retreated but we decided to open a buy Bitcoin signal just now at $ 46.500s, since banks and institutions are adopting cryptos, which means that they won't just go away. Instead, they will only become more widespread.