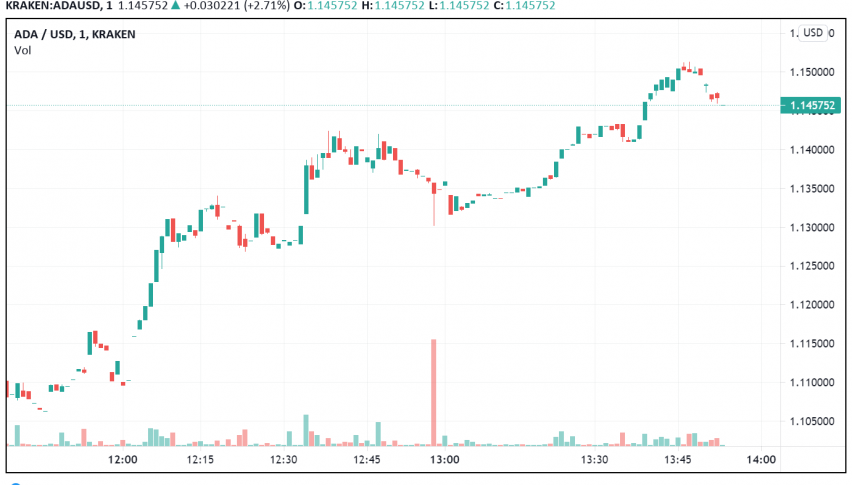 Cardano Turns Bullish After Some Momentary Weakness
Posted Wednesday, March 24, 2021 by
Arslan Butt
• 1 min read
The overall activity in the cryptocurrency may appear slightly sluggish but Cardano is one of the few digital currencies that show some promise of bullishness. Cardano has registered one of the strongest uptrends over the recent sessions among the most popularly traded cryptocurrencies.
At the time of writing, ADA is trading at around $1.14, after having gained more than 14% of its value over the past day alone. Although the price chart shows a bit of weakness for now, technical indicators suggest room for further growth in the price of Cardano in the coming session.
For now, however, the MACD indicator shows a stronger interest in selling the cryptocurrency, pointing to more bearishness for Cardano. However, the price does appear to be consolidating at the lower levels, which could power a strong interest among buyers to enter the market and propel its prices upwards.
Despite its promising potential, Cardano is possibly trading under pressure owing to the overall sentiment in the crypto market being dictated by bearishess in Bitcoin. The world's most popular cryptocurrency suffered a steep decline, with prices now sitting at a little above $53,000 at press time.
However, there is a possibility for further increase in the Ethereum killer  price in the near term as a recent report by Coin Metrics reveals that the upcoming EIP-1559 network upgrade may be unable to solve the problem of high gas fees on Ethereum. This news could potentially drive investors and projects away from Ethereum and towards alternatives, one of the most promising options being Cardano.