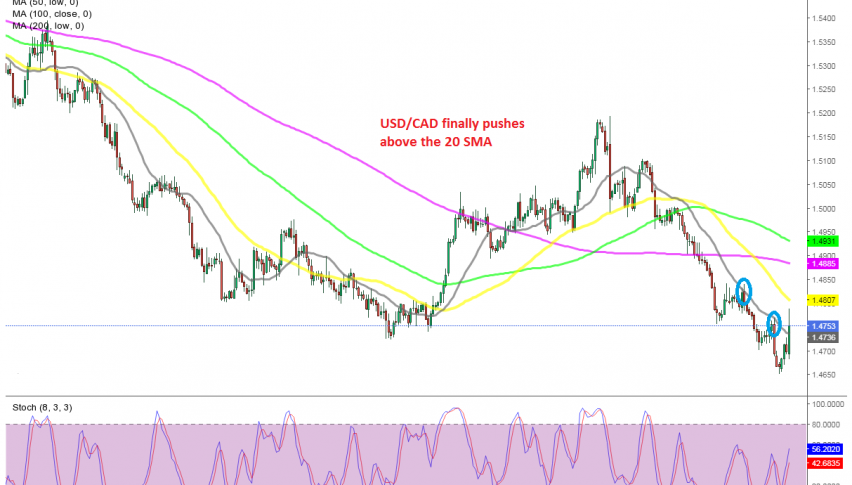 EUR/CAD Moving Above the 20 SMA, After the Disappointing Canadian Employment Report
The Canadian Dollar has been quite strong during the past year, being helped by the bullish momentum in crude Oil prices, which climbed more than $100 since last March. As a result, all CAD pairs have been really bearish during this time.
EUR/CAD has also been extremely bearish, losing around 13 cents until March this year, but in April we saw a 5 cent pullback higher. The trend turned quite bearish again towards the end of April, with the 20 SMA (gray) acting as resistance, but that moving average has been broken today after the disappointing employment report from Canada. Below is the employment report for April:
Canada employment numbers for April 2021
April net change in employment -207.1K versus -150K estimate
March employment change was +303.1K
Full time -129.4K versus +175.4K last month
Part time -77.8K vs 127.8K last month
Unemployment rate 8.1% versus 8.0% estimate
Net change in employment -207.1K vs -150 K estimate
Participation rate 64.9% versus 65.2% estimate
Hourly wage rate for permanent employees -1.6% versus -1.1% estimate
The number of Canadians working from home grew by 100,000 to 5.1 million.
Total hours worked fell 2.7% in April, driven by declines in educational services, accommodation and food services, as well as retail trade
The labour underutilization rate, which captures the full range of people who are available and want to work, rose 2.3 percentage points to 17.0% in April.
The number of Canadians unemployed for 27 weeks or more increased to 486,000.
EUR/CAD Live Chart
The report was influenced by the April lockdown, which forced services in particular to close again. However, I don't think that this bullish move today is sustainable and in May we will likely see a reversal of the employment figures, so the bearish trend will continues here, as long as Oil remains bullish.