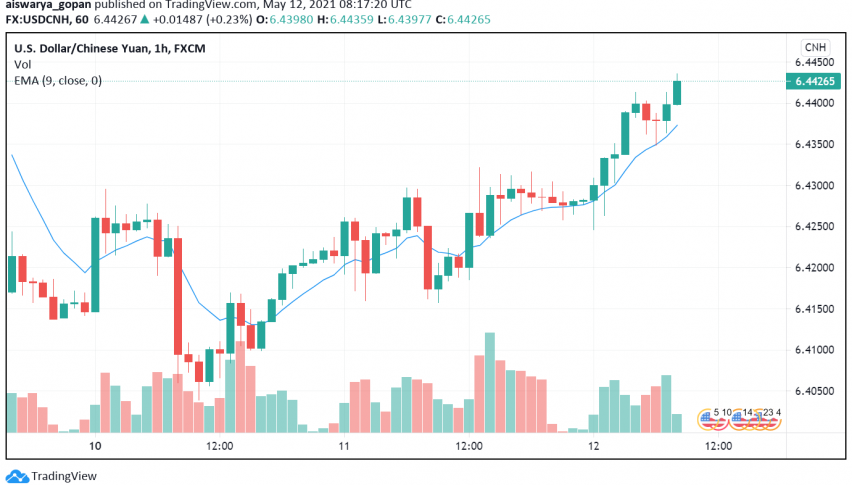 USD/CNH Higher Despite Dollar's Weakness as Yuan Dips
The Chinese yuan is trading somewhat bearish into Wednesday after Chinese companies listed outside the nation indulged in dollar purchases to pay dividends, strengthening the USD/CNH currency pair. At the time of writing, USD/CNH is trading around 6.442.
Chinese firms listed overseas typically make their interim dividend payments between May and August, driving up the demand for the dollar and keeping the yuan under pressure on a seasonal basis during this period every year. Meanwhile, the yuan received support from the PBOC maintaining its plans to hold its monetary policy unchanged while real lending rates could ease lower. Even though the PPI posted a sharp increase, the Chinese central bank has assured markets that it does not think inflation could spike.
Although, gains in USD/CNH remain limited on account of cautious trading in the greenback ahead of the release of the US CPI report later in the day. The inflation data is of particular interest among rising concerns that a sudden increase in prices driven by massive stimulus and the rapid rollout of the COVID-19 vaccine boosting economic recovery could potentially force the Fed to intervene by tightening its monetary policy or hiking interest rates sooner than previously anticipated.
Earlier today, the PBOC set the official midpoint rate of the yuan at 6.4258 against the US dollar, slightly lower than the previous session's fix. The rate, however, varied from economists' forecast which was for the PBOC to fix the official midpoint rate at 6.4306 instead.