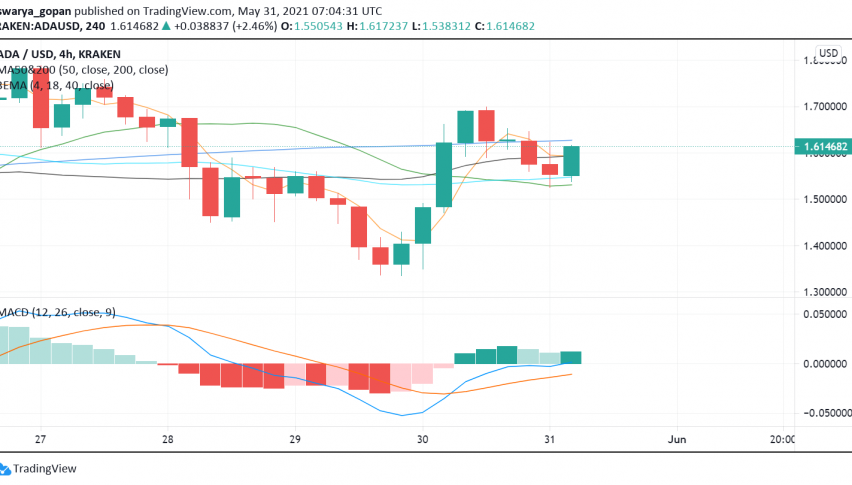 Cardano (ADA) Continues Its Rally From Sunday: Key Levels
Cardano is trading strong into Monday after experiencing a good rally through Sunday and most of last week as well, registering a seven-day gain of nearly 17%. At the time of writing, ADA/USD is trading around $1.61.
There are solid fundamentals working in Cardano's favor, offering some ray of hope to investors that its uptrend could strengthen in the near-term, especially with the focus on how energy intensive crypto mining really is. Why it stands out, especially in comparison with established market leaders like Bitcoin and Ethereum, is because the third-generation cryptocurrency consumes just a fraction of the energy and has significantly higher transaction processing capabilities – both of which are becoming emerging concerns as crypto tries to go mainstream.
Cardano's co-founder Charles Hoskinson shared optimism about his creation in a recent YouTube video, adding that the awareness about the difference between POW and POS among users and investors was on the rise – a factor that has been driving down Bitcoin's popularity. In another interview, Hoskinson states that the development behind the blockchain network was aimed at generating wealth among developing economies in Africa and Southeast Asia.
Leading crypto analysts Lark Davis (@TheCryptoLark) also shared a video on his YouTube channel recently, explaining his reasons for being bullish about Cardano (ADA) in the medium term. He observed how the recent updates shared by IOHK on the development of the network, especially the ERC20 Converter could drive a rush among projects to integrate with Cardano soon.
Key Levels to Watch
On the 4-hour price chart, most of the moving averages as well as leading technical indicators MACD and momentum are pointing towards a continuation of the bullish trend. The price recently broke through a key resistance at $1.52 and the buyers will now face a hurdle at $1.67.
With enough bullish momentum, if they are able to break past this level, they can comfortably make a play for the key $2 level. However, they may encounter some resistance just before that around $1.9 in case traders indulge in profit-taking, which could challenge the climb further.