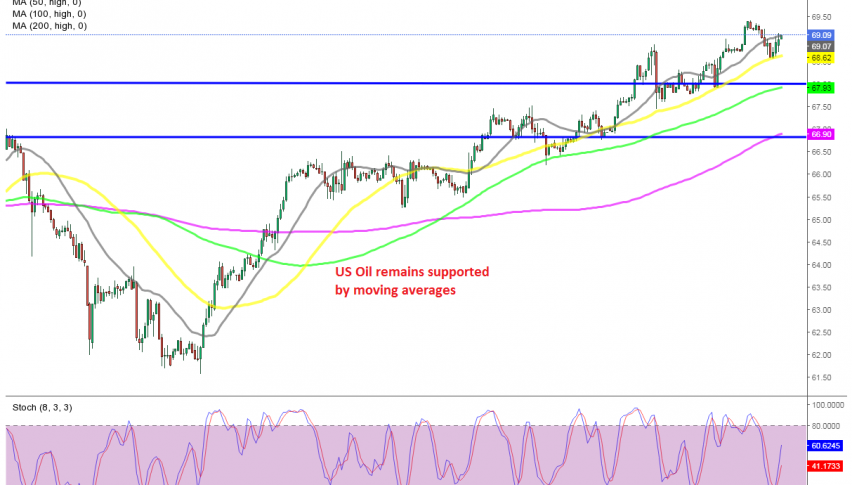 US Economy Improving Further as Today's ISM Services Report Confirmed, Keeping Crude Oil Bullish
Crude Oil has been bullish since April last year, when it reversed following the crash. It stalled in March and April, retracing lower below $60 after placing a top above $68. But then resumed the bullish trend as the global economy kept expanding at a decent pace as Europe and other places started to come out of winter restrictions.
The economic rebound is picking up pace further, with today's economic reports from the US confirming this. The ISM non-manufacturing indicator which is listed below increased to 64 points, so services as well as manufacturing are absolutely surging.
US WTI crude Oil remains well supported by moving averages, bouncing off the 50 SMA (yellow) earlier today and the positive data is keeping it bullish. So, pullbacks down to the 50 SMA or the 100 SMA (green) should be seen as opportunities to go long on Oil.
ISM services index
ISM services index rises to 64.0 from 62.7 last month. Estimate 63.2
Activity/production 66.2 versus 62.7 last month
Employment 55.3 from 58.8 last month
New orders 63.9 from 63.2 last month
Prices paid 80.6 from 76.8 last month. Highest since September 2005
Order backlog 61.1 versus 55.7 last month
Export orders 60.0 versus 58.6 last month
Import 50.4 versus 55.7 last month
Supplier deliveries 70.4 versus 66.1 last month.
The services index is the highest on record  (going back to 1997 ). Port congestions continues to delay deliveries. The numbers suggest the economy is ripping higher with supply and employment constraints. US 10 year yield is up to 1.613%, up 2.55 basis points. The high yield reached 1.6164%.