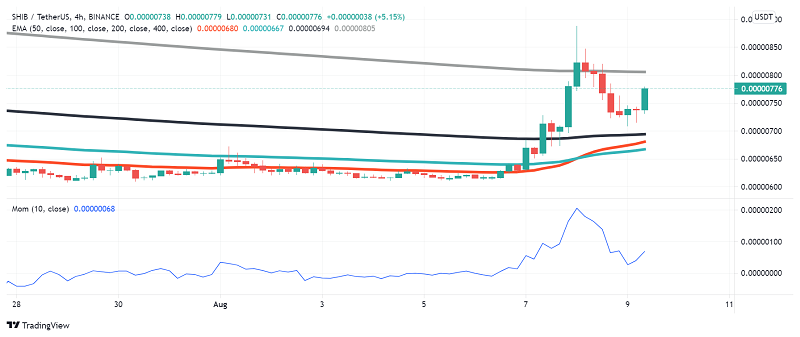 Is is Time to Look at Buying Shiba Inu (SHIB) as Cryptos Turn Upbeat?
The second most popular memecoin, Shiba Inu (SHIB) is coming back into the spotlight once again after posting a disappointing performance through the previous month, supported by an uptrend in Bitcoin lately. At the time of writing, SHIB/USDT is trading at around $0.0000077.
Over the past couple of weeks, Shiba Inu's price appears to have been consolidating, after trading range-bound over the lack of volatility in the crypto market and a somewhat downbeat amood among crypto investors over market leader Bitcoin's inability to break past the key $40,000 level. However, things seem to have turned around ever since traders managed to finally take BTC's price above this level, helping improve the sentiment towards other cryptocurrencies, benefiting memecoins as well.
SHIB's value has strengthened by more than 15% over the past week and on Monday, it is rising higher once again after volatile trading over the weekend saw it slide lower on Sunday. Technical analysis suggests that Shiba Inu could be on track to make more gains in the near term, although in case Bitcoin's price weakens, it could see a pullback lower before it reverses higher once again.
The recent rally in Shiba Inu could also have been fueled by its team of developers performing a $25k coin burn on SHIB tokens as well as on LEASH. In addition, the memecoin's very own DEX, ShibaSwap, saw the addition of new trading pools, Perlin (PERL/ETH) and Ryoshi (RYO/ETH), which could drive up activity on the exchange and increase the appeal of the SHIB token among investors.
Key Levels to Watch
On the 4-hour price chart of SHIB/USDT, we can see the moving averages and the momentum indicator support a strong bullish bias. The Shiba Inu price is holding above the pivot point of $0.0000074 at the moment.
Looking ahead, a continuation of the bullish trend can lead the SHIB higher towards a test of the immediate resistance at $0.0000087. If buyers are able to break this level, they can comfortably continue past the key $0.000010 mark in the near term.
Cryptocurrencies were showing strong bullish pressure in the first two months of 2023, but the bullish momentum has faded
7 months ago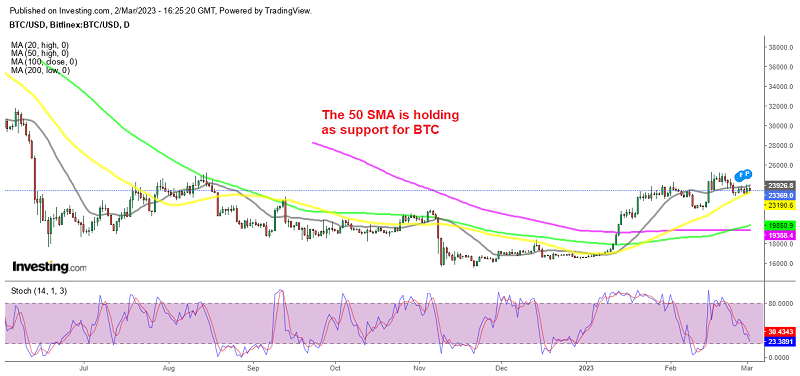 7 months ago