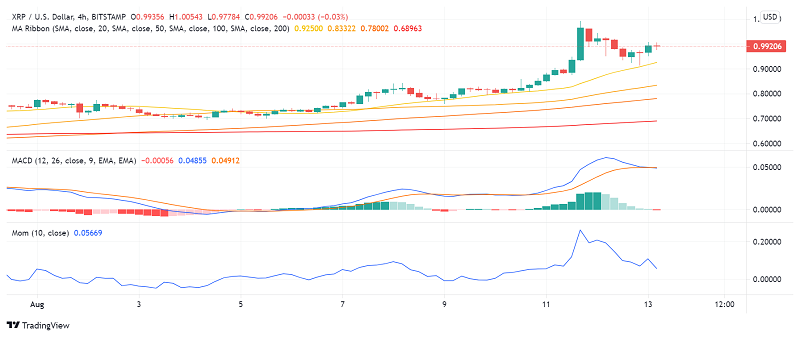 Can Ripple's XRP Return Above the $1.00 Mark Soon?
Ripple's XRP is trading just under the key $1.00 level which is offering substantial resistance at the moment, but keen interest among buyers could lead it to break past this psychological barrier and head on higher in the near-term. At the time of writing, XRP/USD is trading at around $0.999.
First it was the positive sentiment in the overall crypto sector that started to push Ripple's cryptocurrency out of the lull it has been in over the past several weeks. For many weeks, XRP had been trading range-bound, unable to break past $0.90 and finding it difficult to hold above the $0.80 level frequently as well.
However, things began to turn around ever since market leader Bitcoin broke above the key $40,000 mark and continued to soar higher. Further optimism was driven among investors after the Infrastructure Bill ran into some hurdles in the US Senate and the buying spree extended across the board, helping Ripple's XRP despite the legal uncertainties it faces thanks to the SEC.
While the lawsuit between Ripple and the SEC drags on with no end in sight and no significant progress to report, the company has been making quite the news for its expansion into the Asian market. Most recently, the upswing in XRP was strengthened after two leading remittance service providers, GME Remittance and Slam Commercial Bank, signed on to use the RippleNet technology to enable faster and more cost effective cross-border transactions.
Ripple's XRP surged past the $1 level as traders cheered this latest development even as the upbeat mood towards cryptocurrencies also supported the bullish mood. However, it came under pressure due to some sell-offs as investors indulged in profit-taking at this level. Most notably, former CTO at Ripple, Jed McCaleb, an XRP whale, sold off almost $80 million worth of his holdings, exerting significant pressure on the rally.
Key Levels to Watch
On the H4 price chart of XRP/USD, most of the moving averages indicate a strong bullish bias. Although, leading technical indicators MACD and momentum suggest the presence of sellers looming at the moment as well.
Ripple's XRP has broken past the pivot point at $0.772 and is holding above the first two resistance levels at $0.849 and $0.918 respectively. Once buyers break above the key $1.00 mark, they could encounter the next resistance at $1.065 going forward.
Cryptocurrencies were showing strong bullish pressure in the first two months of 2023, but the bullish momentum has faded
2 weeks ago