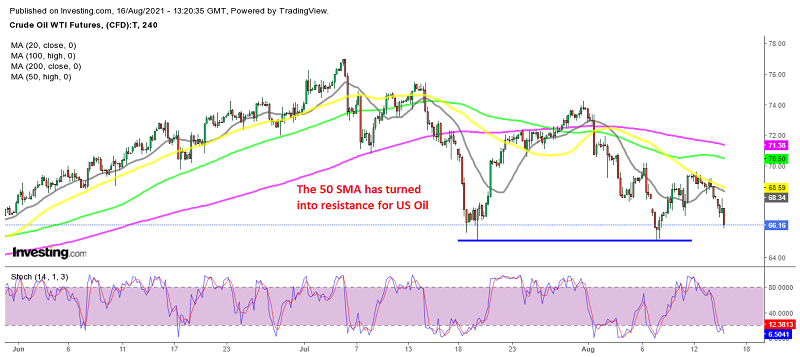 Booking Profit on Crude Oil, as it Dives on Softening Global Sentiment
Crude oil has been showing increasingly bearish signs since the first week of July, when it reversed lower at $77. Buyers have tried to resume the bullish trend, but their attempts have failed and the highs have been getting lower since then.
We have made some decent profit selling the bounces in oil in recent weeks, and the last trade just closed in profit, as you can see from our forex signals section. Moving averages suggest a trend reversal, since they were providing support when oil was on the way up, while now they have turned into resistance. We decided to sell the last retrace higher at the 20 SMA (gray) on the H4 chart, with the stochastic indicator oversold back then.
The 50 MA has turned into resistance for crude oil now
Buyers pushed higher, reaching the 50 SMA (yellow) on this chart, but they couldn't break above the 50 SMA (yellow), which kept pushing WTI Oil lower, until it reversed down and rumbled today. We booked around 170 pips in profit on our trade here, so we're doing well in oil. The latest bounce never really got going in crude oil, as it was already fading slowly, with traders leaning more towards being risk-averse at the start of the new week.
The new measures, due to the delta variant of the coronavirus are hurting the sentiment, with China and Japan in lock-downs, while manufacturing in the US is already softening in August, as shown below, although this might not be related to the coronavirus.
New York Fed Empire manufacturing index for August 2021
August Empire Fed manufacturing index 18.3 versus 28.9 estimate
Prior report came in much stronger than expected, at 43.0 versus 18.0 expected (record high)
new orders 14.8 versus 33.2 last month
prices paid 76.1 versus 76.8 last month
prices received 46.0 versus 39.4 last month
employment 12.8 versus 20.6 last month
average workweek 8.9 versus 14.0 last month
shipments 4.4 versus 43.8 last month
unfilled orders 15.0 versus 12.1 last month
delivery time 20.3 versus 20.2 last month
inventories 6.2 versus 16.2 last month
Six-month conditions rose to 46.5 versus 39.5 last month
new orders 42.7 versus 34.2 last month
prices paid 66.4 versus 64.6 last month
prices received 52.2 versus 57.6 last month
number of employees 38.5 versus 43.9 last month
average workweek 2.7 versus 3.0 last month
shipments 45.9 versus 39.9 last month
unfilled orders 0.0 versus 1.0 last month
delivery times 0.9 versus 5.1 last month
inventories 8.0 versus 9.1 last month
capital expenditures 23.0 versus 26.3 last month
technology spending 15.0 versus 14.1 last month
The data has been volatile over the last two months. Last month the report showed a sharp increase to 43.0 versus the expected 18.0, and this month, the index moved back towards the recent ranges, although companies remain optimistic for the future, as the six-month condition index has increased by 7 points, to 46.5.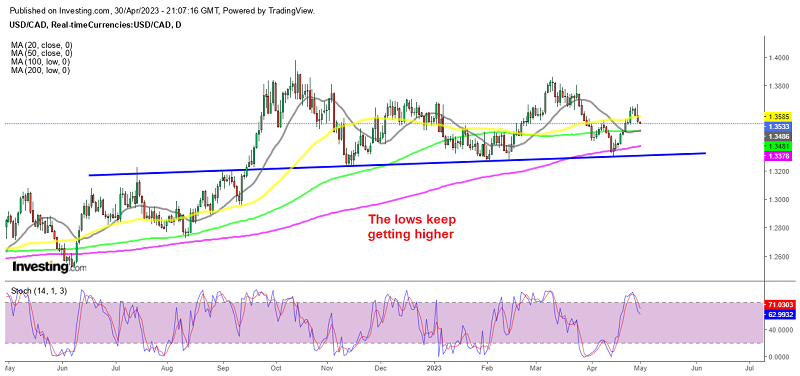 4 weeks ago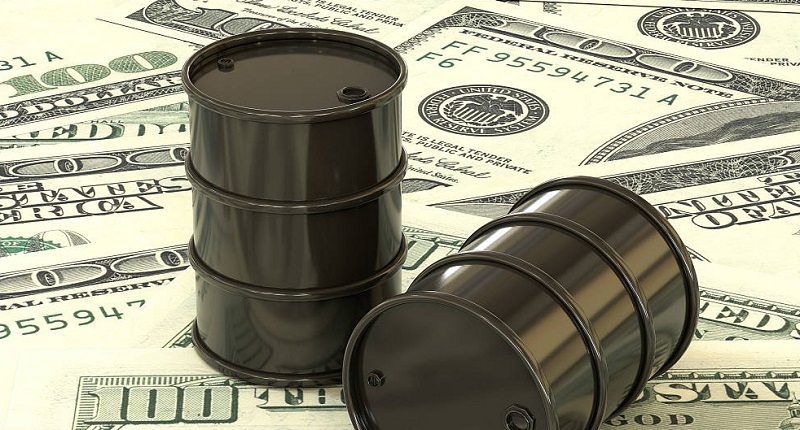 1 month ago