4-Hour 38% Retracement Trade For Dogecoin (DOGE)
The cryptocurrency asset class is performing well today, led by gains across the board. However, one laggard has been Dogecoin (DOGE). At press time, DOGE is off by nearly 1% but has bounced from session lows. If we see Dogecoin challenge the $0.30 handle, a 4-hour shorting opportunity may come to pass.
Since zero-commission brokerage giant Robinhood's IPO, the scope of Dogecoin's US popularity has become public information. For Q2 2021, Robinhood's primary source of revenue stemmed from the trade of cryptocurrencies. In fact, crypto revenues swelled to US$233.1 million, up 4,298% year over year. This figure eclipses US$216.6 generated between equities and options combined.
Of the US$233.1 Q2 2021 figure, Dogecoin trades account for 62% of the action. So, there is no denying that DOGE is a key target for most US-based retail crypto participants. This is good news for technical traders in that huge retail volumes typically lead to efficient markets. If so, tools such as Fibonacci retracements and moving averages become more powerful.
Dogecoin Challenges The $0.30 Handle
It has been a rough week for Dogecoin (DOGE). Prices are well off Monday's highs and a short-term bearish bias is appropriate.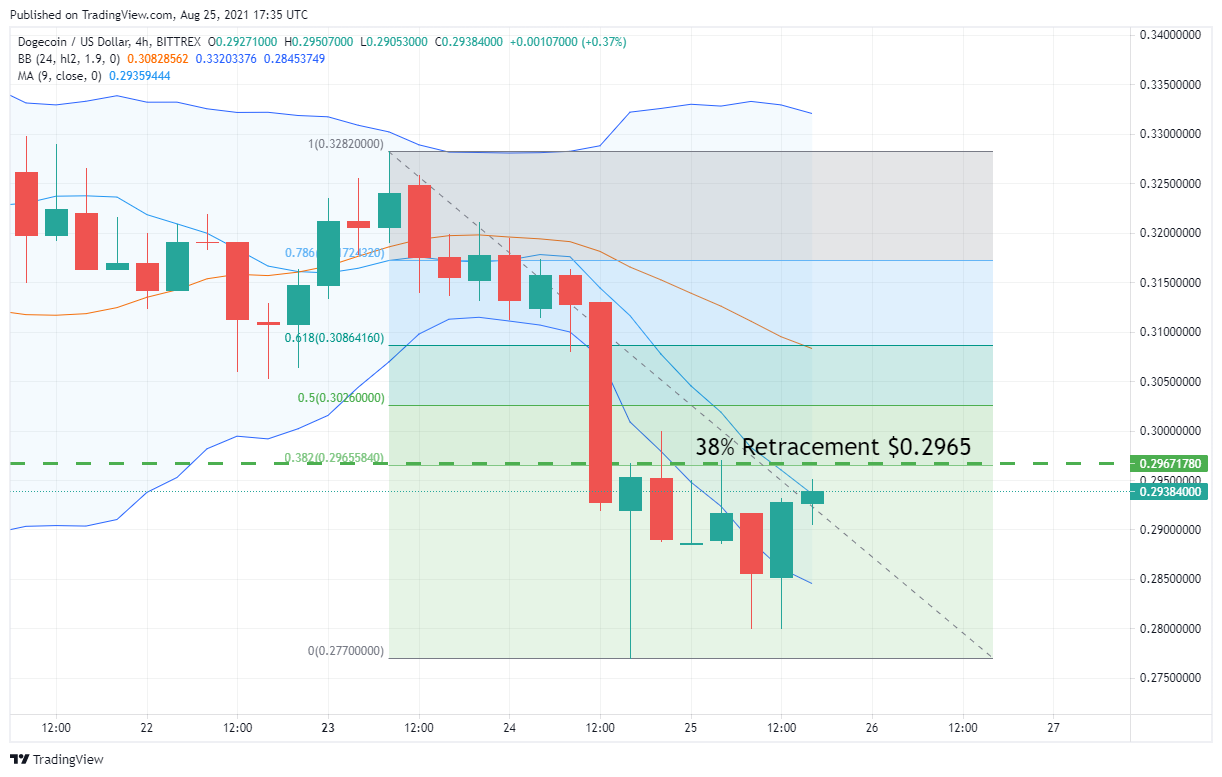 Bottom Line: At press time, DOGE is well off yesterday's lows near $0.28. If prices continue to rise the 4-hour 38% Fibonacci Retracement ($0.2965) may come into play. As long as the Swing Low ($0.2770) remains intact, I'll be looking to sell Dogecoin from $0.30. With a stop loss at $0.33, this trade produces $0.03 (10%) on a standard 1:1 risk vs reward ratio.