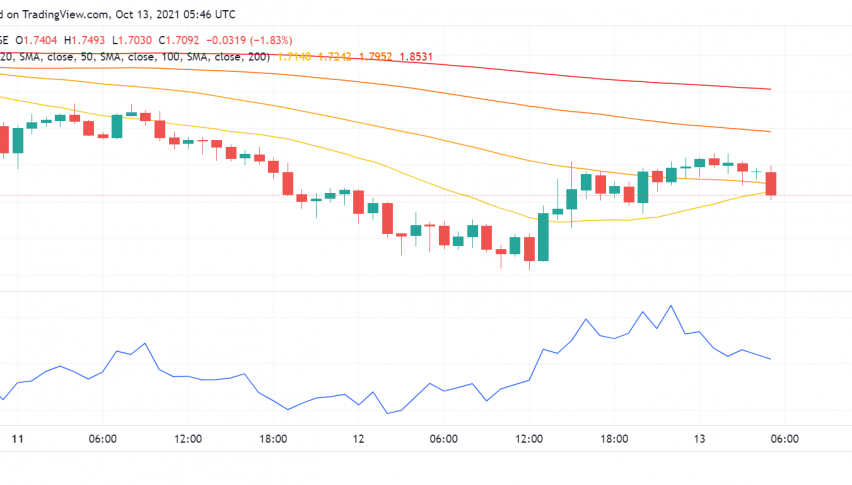 Adoption of Algorand (ALGO) Rises: Can it Break Into Top 10 Cryptos?
We are seeing some choppy trading in Algorand (ALGO) on Wednesday after the sentiment in the overall crypto market slipped on account of a decline in Bitcoin prices. At the time of writing, ALGO/USD is trading at around $1.70, still up by over 5% in the past 24 hours.
One of the leading potential Ethereum killers, the Algorand ecosystem has been enjoying a steady flow of projects and users over the past few weeks Several dApps have been launching on the blockchain that offers high transaction speeds, low transaction costs and greater levels of energy efficiency than Ethereum – the current leader in the Defi space.
Latest Fundamental Developments in Algorand
One such example is that of crypto startup Alty which makes it possible to integrate crypto with populas chatting apps like WhatsApp and Telegram, and has recently switched from Ethereum and onto Algorand's ecosystem. Alty's CEO Liran Peretz considers the blockchain network to be" the most forward-thinking in the crypto industry". This development will allow users of Alty to send and receive ALGO and other supported crypto tokens from its network via chatting apps, a more that can drive up usage of the cryptocurrency among mainstream consumers significantly.
Another interesting fundamental development to keep an eye on is the launch of a fan-financed decentralized music investment platform coming up within the Algorand ecosystem. Taking music into the Web 3.0 space is a partnership between Opulous, Lil Pump and KS HMR and investment platform Republic for fans to finance their favorite artists' songs and partake in tokenized royalties.
Meanwhile, the Algorand foundation and Reach have announced a partnership with Africa Blockchain Alliance to make dApps safer via the Decentralized Umoja Algorand Bounty Hack. The online Bounty Hack Series will consist of a guided hackathon to foster the development of decentralized apps.
ALGO/USD Technical Analysis
Leading crypto analysis show Coin Bureau's host "Guy" forecasts that ALGO could soar to a new ATH in the coming weeks. In a recent update, he discusses how Algorand's native token crossed its ICO price of $2.40 recently but fell back on profit-taking. However, he believes that the of token has the potential to break into the top 10 cryptos by market cap on the back of strong fundamentals.
Taking a look at the 4-hour chart of ALGO/USD, we find a bearish bias among most moving average as well as the momentum indicator. However, the MACD points to some interest among buyers as well.
Algorand's price is holding under the pivot point at $1.87 but the immediate support at $1.64 is doing its job well at the moment. Further bearish pressure could, however, see a test of this level soon unless more buyers jump into the market and take ALGO towards the PP.