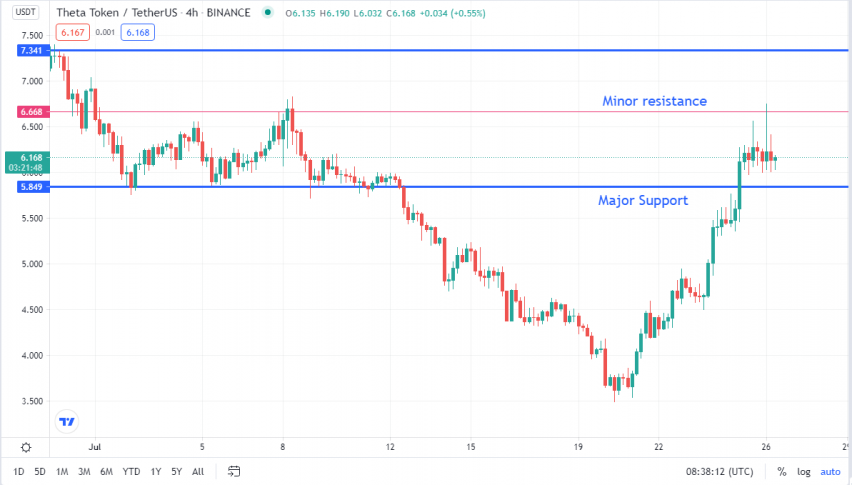 The Crypto Market Fell Today, and Theta (THETA) Is Taking One of the Biggest Hits
Over the last 24 hours, most cryptos has fallen, with Bitcoin (BTC) down 2.66%, Ethereum (ETH) down 3.07%, and Solana (SOL) 3.66%. This is after a few days of mostly positive gains for much of the crypto industry, so it does not look like a major turnaround. These losses are mostly minor and could indicate a quick adjustment before further gains.
For Theta Network (THETA), however, the drop is more significant. Theta fell 8.33% over the last 24 hours, falling to $5.28 (THETA/USD). A major drop like that means that Theta is entering dangerous territory, losing a lot of the progress it has made since it started to turn around on December 20th. Before that point, Theta was struggling to even move past the $5 level. Now that it has enjoyed a bullish run for a week straight, the trend is shifting in a dramatic way.
How Theta Is Stacking up to Other Cryptos
The fact that Theta is falling at a rate that is about three times what the major cryptos are experiencing bodes poorly for this crypto that was doing so well very recently. That means it has farther to go to reverse its fortunes, and it may not recover as quickly as some of the other cryptocurrencies.
Despite the drastic downslide Theta is going through, it is still holding on to its ranking among cryptocurrencies, currently ranked #37. That's an improvement from earlier in the year when it had slipped to the #41 position.
Plotting Theta's Next Move
The highest rate Theta Network has managed to achieve recently is $5.93 on Sunday, from which point it started to fall. That downslide stuttered throughout the early morning hours yesterday but became a steady decline later in the day. This morning, Theta's downward progress has slowed and the price is evening out. We are seeing the Theta rate show signs of settling, which could mean it's preparing to go either way at this point.
Where Theta heads from here will mostly depend on the movement of the major cryptos. Keep watching Bitcoin, Ethereum, and some of the other top-ranking cryptocurrencies to get an idea of which direction Theta is going to move. As yesterday's drastic downslide has demonstrated, however, Theta could move at a faster rate than some of the top cryptos. Its unpredictability at this point makes it a dangerous crypto to invest in.