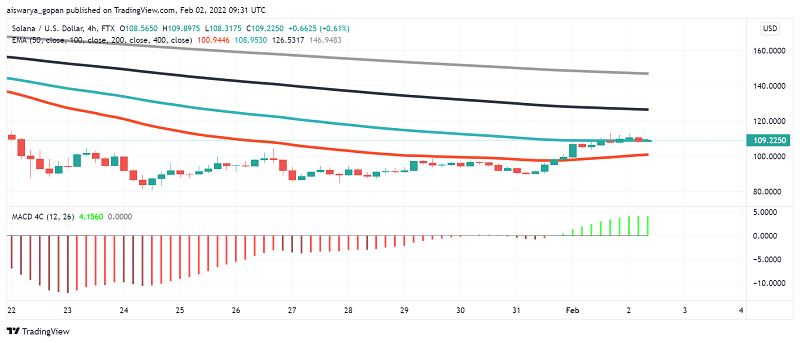 SOL Price Analysis: Bulls Take Charge After Solana Pay Launch
Solana (SOL) is one of the biggest gainers in the crypto market on Wednesday, riding the wave of optimism following the announcement of the blockchain's latest P2P payments protocol. At the time of writing, SOL/USD is trading at around $109.22.
All You Need to Know About Solana Pay
Solana Pay is a decentralized payments protocol which will allow merchants and e-commerce platforms to accept payments in cryptocurrencies via digital wallets. The P2P service will allow easier use of Solana-based digital assets as payment methods for businesses and consumers from their crypto wallets.
Upon its launch, the Solana Pay protocol has already been integrated with popular crypto exchange FTX as well as crypto wallets Phantom and Slope. With this move, the blockchain looks all set to drive up the use case of cryptocurrencies as payment method and even increase the use of its native stablecoin, USDC.
According to head of payments at Solana Labs, Sheraz Shere, "Merchants and consumers want a frictionless experience without taking on unnecessary volatility risk, and consumers don't necessarily want to transact with their investments. If people can seamlessly transact on-chain just like they do with cash, we believe that will spur interest and create new innovations which is why the protocol is designed to allow for developers to build new commerce experiences on top of it."
Other Fundamentals Also Support Bullish Mood in SOL
In more promising developments, Solana's NFT space is getting two interesting additions to look forward to. The Coachella Valley Music & Arts Festival has announced a partnership with FTX to launch three NFT collections on the high speed blockchain. Another interesting collection is by non-profit organization Welcome to Chinatown, which aims to raise funds for struggling Chinese businesses in NYC's Chinatown.
Meanwhile, institutional interest and investment in Solana could soon rise after Valour Inc. announced that its Solana ETP has received approval. The ETP is all set to be listed on the Boerse Frankfurt Zertifikate AG starting today, giving institutional investors exposure to this cryptocurrency.
SOL/USD Technical Analysis
Taking a look at the H4 chart of SOL/USD, we find a strong bullish bias among almost all moving averages and the MACD. However, the 200 EMA and popular technical indicators Stochastic and momentum are flashing sell signals as well.
Solana's price remains well above the pivot point at $92.82 and has crossed the first resistance at $104.97. Let's see if buying pressure builds up to take SOL past the second resistance at $116.64 next.
Cryptocurrencies were showing strong bullish pressure in the first two months of 2023, but the bullish momentum has faded
3 weeks ago