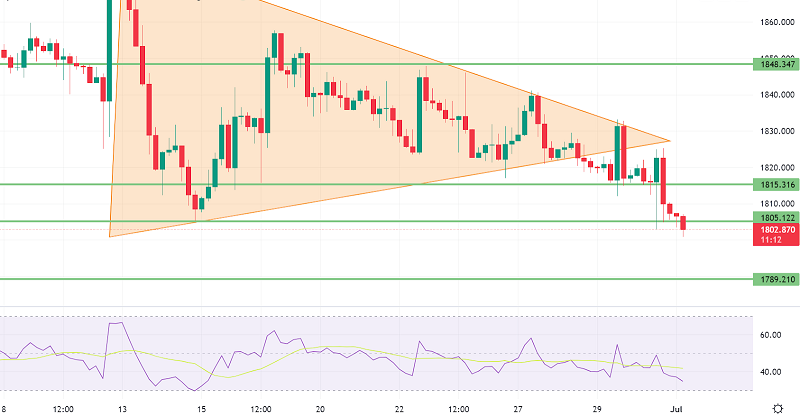 Gold Violates Symmetrical Triangle Pattern – Is It Going After $1,785?
The yellow metal gold was down 0.1 percent at $1,805.39 per ounce, hitting a six-week low of $1,801.50 the previous session. Gold futures in the United States were unchanged at $1,806.40. GOLD prices are coming off their worst quarter since early 2021, with hawkish central banks and a soaring US dollar causing a 1.2 percent drop this week.
A stronger dollar raises the price of gold for buyers who hold other currencies. Benchmark 10-year Treasury yields in the United States rose after falling to their lowest level since June 7 on Thursday. New data for May in the United States provided little immediate relief from the record pace of inflation pushing the Federal Reserve toward another oversized interest rate increase next month, but it contributed to a growing sense that the worst may be over.
Higher interest rates increase the opportunity cost of holding gold, which pays no interest. The SPDR Gold Trust, the world's largest gold-backed exchange-traded fund, reported a 0.22 percent drop in holdings to 1,050.31 tonnes on Thursday, down from 1,052.63 tonnes on Wednesday.
Spot silver fell 0.1 percent to $20.23 per ounce, bringing its weekly loss to 4.1 percent, the most since mid-May. Platinum rose 0.2 percent to $895.50, but it faces a 1.4 percent weekly drop for the fourth time in a row. Palladium fell 0.3 percent to $1,920.53 but is up about 2.8 percent this week.
Gold Technical Outlook
The gold price has surpassed the 1810.00 level, reinforcing expectations of continuing the bearish trend on an intraday and short-term basis, and the path is clear to our next target of 1780.25.
The EMA 50 continues to underpin the proposed bearish wave, noting that a break of 1810.00 will push prices to achieve daily trading gains and test 1850.00 regions before attempting to decline again. Today's trading range is expected between 1780.00 support and 1820.00 resistance.
Today's Predicted Trend: Bearish