Old Risks Decline, New Risks Arise – April 2017 Monthly Review
Risks are always present in the forex game. Whether it be the central bank moving interest rates, starting or ending a QE (Quantitative Easing) program, a shifting of political sentiment, or a technical setup which might go for or against you. These examples are just the tip of the iceberg.
Of course, these risks can change continuously for a forex trader. This month we started with the risks that Article 50 brings for the UK (and to a certain degree for Europe) since it was triggered in late March.
But that risk has been lowered now because the UK Prime Minister May announced snap general election to be held on May 8th. It's looking positive now!
At the beginning of the month, the biggest threat/risk for the EU was the French presidential elections. Elections are not over since the second round is still to go, but Le Pen has no chance to win anymore (will discuss this later on).
Another risk forex traders were trying to anticipate this month was Trump´s fiscal plan. We had a few ideas about it but there was no actual fiscal plan created in the first 100 days of his presidency. Instead, we've received some chilling comments about North Korea that we must focus on. And, despite all the risks, we had a successful month regarding our performance with forex signals, closing the month with a respectable 348 pip profit.  
Europe is now safe
Forex Signals
As you have read in the weekly reviews, this month has been relatively quiet despite all the global risks we mentioned above. April holidays, such as Easter, played a big part in this, and therefore the number of forex signals was a bit lower, only 29.
The positive thing in the quiet months is that the number of losing signals is also lower. We only had 6 losing signals out of 29, the win/loss ratio for March stands at 80:20.  
AUD/USD was our favorite forex pair this week. We opened seven forex signals here and only one of them hit SL, the other six were closed in profit for a total of 77 pips.
We decided to stay short on this forex pair even though we didn't pick it just for fun, although it was sort of fun having one winning forex signal after another. We picked it because the Aussie was the weakest currency when every other major one was making impressive gains against the Buck. This trading strategy worked well and we reaped our rewards.  
We also got a break in EUR/CHF on Sunday evening last week when Macron won the first round in the French elections. EUR/CHF opened with a bigger gap, which brought us more profits than our initial target for our short-term forex signal on this pair.
We placed a 25 pip take profit target for that signal, as usual. But the market opened with a massive gap so the price skipped the take profit, and our signal remained open so we had to close it manually for an astounding 128 pip profit.
Note: My forex broker allows traders to benefit from gaps and make bigger profits when the price skips the TP price. Not all brokers allow that, but if they skip your SL when the market opens with a big gap against you and you end up with a 150 pip loss, it's only fair that they do the same with TP. If your broker closes your trade at a 25 pip profit on a 150 pip gap but doesn't apply the same rule when the gap goes against you, you must really question their policies and probably change them. Check out FX Leaders forex broker reviews here.  
The market this month
This month started off horribly, with terrorist attacks on St. Petersburg and Stockholm, followed by another attack in Paris. I know it´s not pleasant, but the market seems used to this, so there was no reflection in the forex market.
The market did notice Trump´s comments in China, though. The lunatics in North Korea are pushing their mad agenda to nuke the world and Trump is trying to get China to calm them down. So, he let China off for being a currency manipulator and certain major currencies rallied on back of this on the expense of the USD.
Although, the biggest event of the month was the French elections. Le Pen threatened to break up the EU and she was leading the polls for the first round, but then the outsider Macron won the first round, so she has no chance whatsoever to win the second round.
The Euro surged about 200 pips when the forex market reopened on Sunday evening, but the Pound was the biggest winner this month as PM May announced snap elections in June, which could bring a soft Brexit that everyone wishes for, apart from a handful of UK nationalists.
Donald Trump had to close the month, though. He tweeted that the promised fiscal plan was about to come in the last week of April, but we only got some rough guidelines. We don't know the final draft yet or even if it will take all the votes it needs to go through, so the market wasn´t really impressed by the guidelines.  
Economic Data
The UK economic data this month continued its negative trend. Apart from a few releases which beat expectations, such as the services PMI and average earnings, the rest of the data was mainly red. The Q1 2017 GDP was slashed in half compared to the previous quarter, so the picture for the UK economy is looking bleak.  
Speaking of GDP, this wasn´t a great month for the figures. The US GDP for this quarter grew by about a third of what it grew in Q4 2016, while Canadian GDP remained flat.
Apart from the big decline in the US GDP numbers, we also had some rubbish great figures from the US. Retail sales and durable goods orders both fell by 0.2% this month while inflation moved lower for the first time in a while.
Inflation numbers in Europe slightly missed expectations in the beginning of the month, but on the last day of April, we received the EU inflation report which showed that inflation is reaching the 2% ECB target, while core CPI (consumer price index) jumped above 1% for the first time in ages/years. Besides that, the traditional sectors such as manufacturing and services also expanded considerably this month, so it all looks good in Europe.
Pair analysis
USD/JPY has been in a downtrend the entire year after the steep uptrend at the end of last year, but a couple of weeks ago it reached a point where the downtrend seemed too stretched and a retrace seemed overdue.
If you remember, we posted an update back then where we mentioned that a 200-300 pip pullback from the 108 support level was likely to follow. We didn´t open a forex signal but brought it to your attention, so hopefully, some of you took that trade.
The 50 and 100 SMAs added additional support to the 108 level
That level coincided with the 50 (yellow) and 100 (red) SMAs which added extra strength to that long term support level. Funny enough, the 200 SMA (purple) on the monthly forex chart was standing about 50 pips below.  
The 200 SMA was standing just below 108
Anyway, the price opened with a big gap on Sunday evening and we´re now more than 300 pips higher. Now, the stochastic indicator is overbought and RSI will be overbought too when the market opens tomorrow. We're right at the 50 SMA which has provided mild support and resistance before, so that´s a sell signal.
I'm not sure we will open a long-term sell signal here because the weekly chart is pointing up, but this is another forex trade highlight for those of you who feel that can afford the risk.   
Stochastic is overbought now and the 50 SMA has provided resistance for the last three days
Monthly conclusion
We closed the fourth month in profit for this year, so we´re having a good run. That´s pretty good considering all the political events this year, particularly in April.
Next weekend, we have the second round of the French elections but Macron is done and dusted… so Europe can breathe easier.   
There aren't any important central bank meetings on the schedule during May either, so many analysts are expecting a quiet month, but with what we have seen this year I don´t trust these markets or anyone for that matter.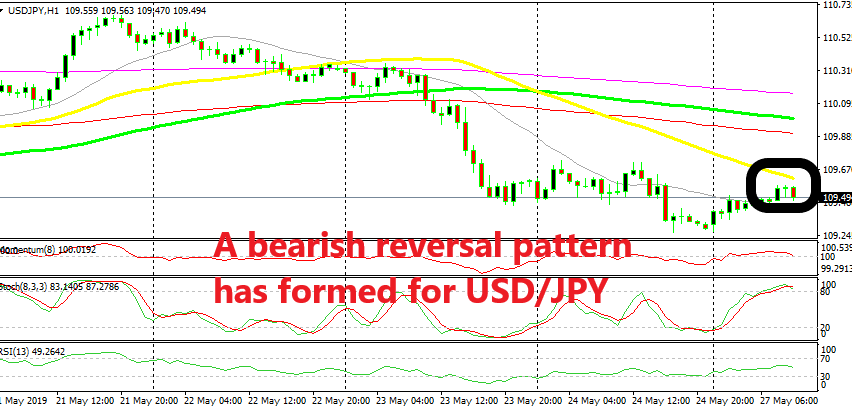 2 hours ago
Tensions remained high, with China accusing U.S. Secretary of State Mike Pompeo of fabricating rumors. Watch out trade levels for this week.
5 hours ago