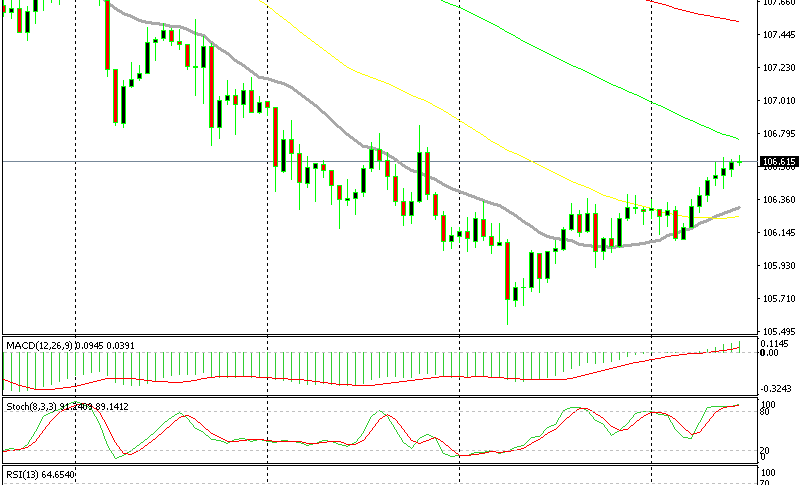 Moving Averages Failed for USD/JPY: Trend Change?
Last Friday, we opened a forex signal in USD/JPY. We sold this pair at the 20 SMA (grey) on the hourly chart. Our analysis was correct; this pair had been in a steep downtrend the entire week, and the 20 SMA provided resistance on every retrace higher.
The USD/JPY pair was going through an additional retrace, so we settled on short selling. Unfortunately, the 20 SMA didn't work this time and the price shot above it and didn't return, like it had been doing the entire week.
Two moving averages have gone, now we are taking a look at the 100 SMA.
The 50 SMA (yellow) was providing resistance this time and it did push the price back a couple of times. Nevertheless, the 20 SMA turned itself into support now. That is what these moving averages do, they provide support and resistance, which is why I use them extensively.
Because the buyers were gaining confidence at the 20 SMA, the 50 SMA didn't last very long. This is proof that the trend can perhaps be changing. Even though the larger trend is moving higher up in the smaller timeframe charts, it will definitely take time for it to make a change.
The low last Friday was in the 105.50s range, which is a major support area that stretches all the way to 105. This might actually be the position in which this forex pair turns around if the trend does change.
I believe that the sellers will give it another shot or two at the downside of it all before they give up completely. This actually gives me an idea to open another sell signal, this time at the 100 SMA (green) which stands 10 PIPs above the current price.