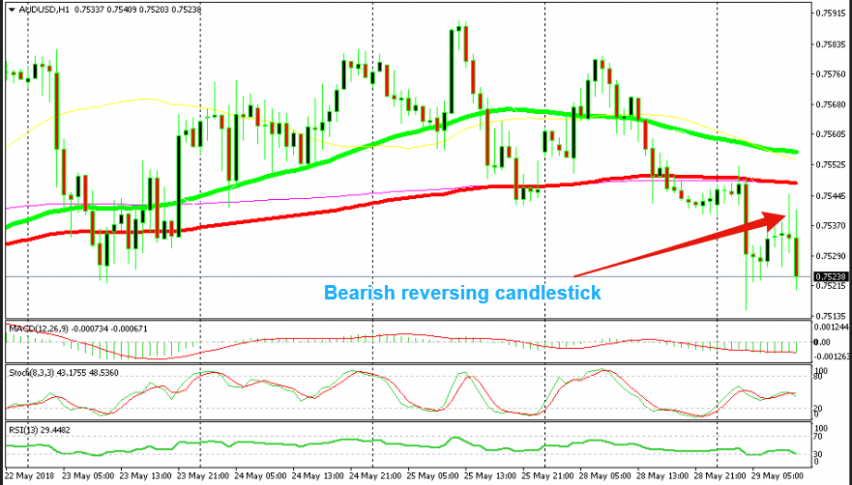 The USD Continues to Charge Ahead – Shorting AUD/USD
The US Dollar has been on an uptrend for more than a month now. It seems at times like the climb is coming to an end, but the buyers resurface again and the uptrend continues. There are many factors for this major reverse, because if you remember, the Buck used to be on a solid downtrend for more than a year until April.
Yesterday, we saw the commodity Dollars try to put up a fight. They climbed up in the morning and retraced in the afternoon. GBP/USD wasn't making any new lows either, so some forex traders might have thought that the USD uptrend might have come to an end.
But this morning, we saw that USD buyers are still on charge. They commenced the next assault three hours ago and they are still going strong. EUR/USD is nearly 100 pips lower, while GBP/USD is 120 pips lower so far this morning.
The market sentiment has deteriorated, so safe haven currencies are better off as well. They are 100 pips higher against the USD, which means that they are around 200 pips higher against the Euro and other risk currencies. GBP/JPY is more than 200 pips lower today.
What do we select to trade this morning? Well, the Aussie hasn't paid its dues completely. AUD/USD made its' first attempt to move lower early this morning, but the decline stopped with only one bearish candlestick at 2 am GMT. Since then, the forex pair has retraced higher, but now it seems as the downtrend is resuming again. The price has formed a few pins and dojis on the H1 chart and this hourly candlestick is the signal that the sellers are back in control. So, we just opened a sell signal on this pair, now comes the waiting game for us.