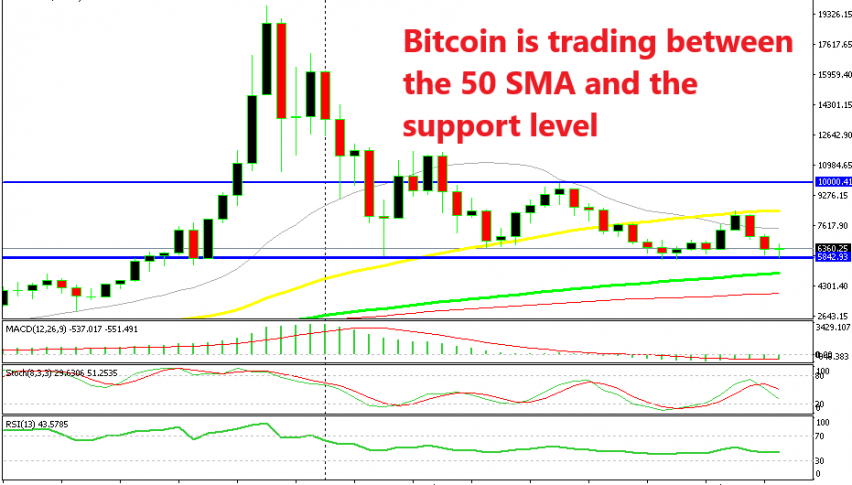 At Least Bitcoin Is Not Falling Anymore
We opened a long term buy forex signal in Bitcoin two weeks ago as Bitcoin was pulling back lower after a decent bullish move in the previous few weeks. We used the daily chart for that trade analysis given that the price had been quite bullish in the previous weeks. Although, we should have stuck to the weekly chart since Bitcoin is trading according to the technical indicators in this timeframe.
We highlighted about a month ago that the failure to break above the 50 SMA (yellow) would bring a bearish reversal since the stochastic indicator was also overbought at that time. But the fundamentals, such as the postponing of the IPO of a certain ETF which was backed by Bitcoin itself, gave the sellers one strong reason to push lower.
So, that went against our trade here, but at least the decline has stopped. Bitcoin has stopped right above the support area which stretched between the $5,700 and $5,900 levels. It seems like Bitcoin has formed a base down there which the sellers can't break.
The price formed a hammer on Tuesday on the daily chart which is a reversing signal after the bearish move, but yesterday didn't exactly follow through with a proper bullish candlestick, although the price closed higher on the day.
Anyway, the weekly chart setup looks promising for buyers. If the price closes right here or higher, then the weekly candlestick would point to a bullish reversal. By the end of the week, stochastic will have reached the oversold area as well, so hopefully next week we see a bullish turnaround in Bitcoin.