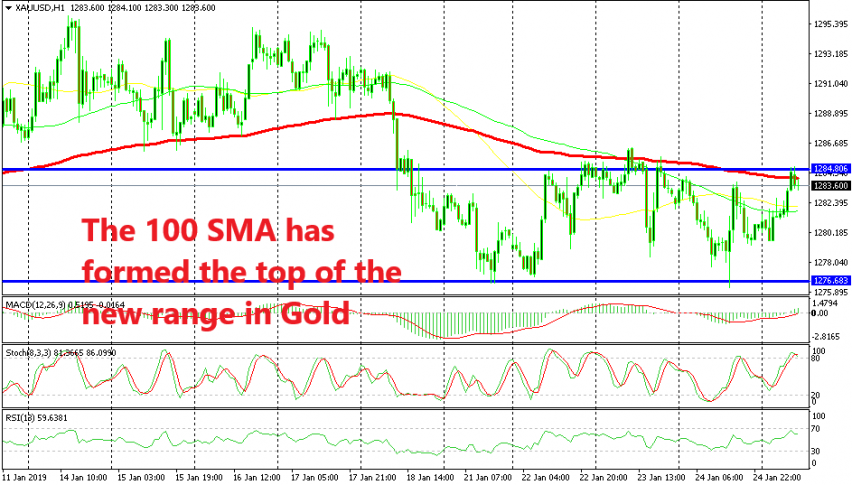 Selling Gold at the Top of a New Range, One Step Lower
After trending higher for several months last year, GOLD reached the big round level at $1,300 early in January this year. Gold bulls failed to break above it and, as a result, Gold traded in a range with the top of the range somewhere around $1,295 and the bottom around $1,285-87.
During that period, the 100 SMA (red) was providing support at the bottom as you can see from the H1 chart above. Eventually, the market sentiment improved which reduced the demand for safe havens and Gold broke out of the range to the downside, while USD/JPY broke to the upside.
I thought that the downside would be steeper after the break and a downtrend would start to form. But, trend reversals take time to form and pick up pace. So, Gold has traded sideways for the past week, which means that it has formed a new range.
The new range is one step lower from the old one. The bottom of the old range has become the top of the new one, or we can say that the previous support has now turned into resistance. During the Asian session, Gold buyers pushed higher and reached the top of the range a couple of hours ago. We saw this as a great chance to go short on Gold, which we did just a minute ago.
So, I suppose we will trade the new range now until it gets broken again, probably to the downside, but let's not make plans too far ahead. Let's stick to the range for now, buy at the bottom and sell at the top. The break will come when it has to, and we can do nothing about it, but trade what's coming.