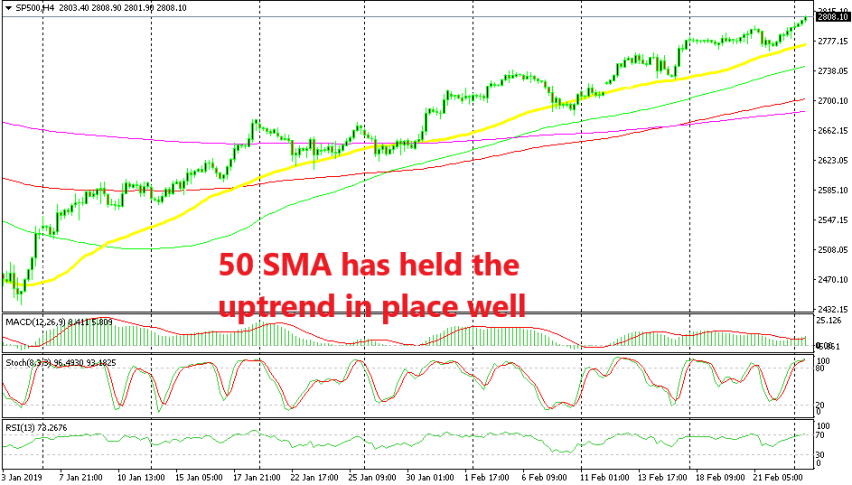 Using MAs to Trade the Uptrend in Stock Markets
Stock markets have been climbing higher in what seems to be a pretty steep uptrend since they made the big reversal at the end of last year amid really thin liquidity during Christmas markets. Since then, we have only seen a one way traffic in all major stock market indices.
[[S$P500]] has almost recuperated all the losses from the last three months of 2018 and keep pushing higher. We made some nice profit in indexes last month but I was counter-trending them, which can also make you good pips if you know how to play the game. But I haven't tried the bullish trend in indices and I think that it is time to get on with the uptrend and make some more profit from stock markets.
the way to trade the uptrend is to wait for dips lower and buy at the ascending trend line if there is one. But here at Fxleaders, we usually use moving averages instead of trend lines because they're dynamic and adjust better to the price movements as trends unfold in waves.
In S&P500, the 50 SMA has provided solid support during the dips. It has been pierced a couple of times but don't expect them to work exactly to the pip. The price has returned back above it and the uptrend has continued further. So, another dip to the 50 SMA would be a great opportunity to get on this bullish trend and make some good pips. This is the story in all major indices, but the moving average might be different. If you want to trade stock markets, then wait for a pullback to the moving average.