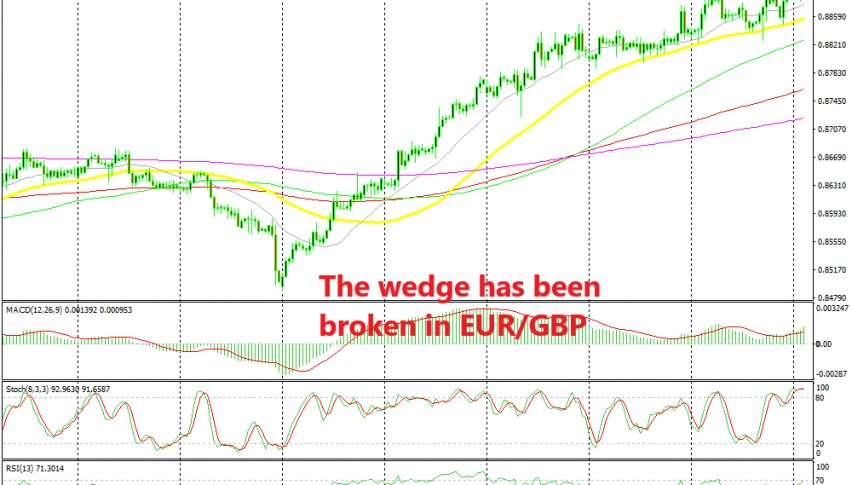 EUR/GBP Breaks the Wedge and Stretches the Uptrend, With the 50 SMA Still Holding as Support
EUR/GBP turned bullish at the beginning of May as the GBP turned really bearish after odds of Theresa May's Brexit deal passing the British Parliament diminished. The political scene in Britain shuffled further and Theresa May is out now, so the picture for the GBP remains quite bearish still, with the economy in free-fall as today's data pointed out.
As a result, EUR/GBP has been pretty bullish and it has climbed more than 4 cents during this period. The price was finding support at the 20 SMA (grey) in the first few weeks, but the trend slowed in the last two weeks and the 50 SMA (yellow) caught up with the price.
The 50 SMA has been pushing this pair higher during the last two weeks although last week a top was put in place at 0.89. The 50 SMA as still providing support and pushing the price higher, which formed a wedge between the resistance at 0.89 and the 50 SMA which kept moving up. I said on an forex update last Friday that the wedge was going to break at one point and the pressure was on the top side.
The break came today in the European session and EUR/GBP after the price found support at the 20 SMA and now the bullish trend is back in place for this pair. So, we have a bullish bias for this pair and we will wait for a retrace lower to the 50 SMA in order to go long.