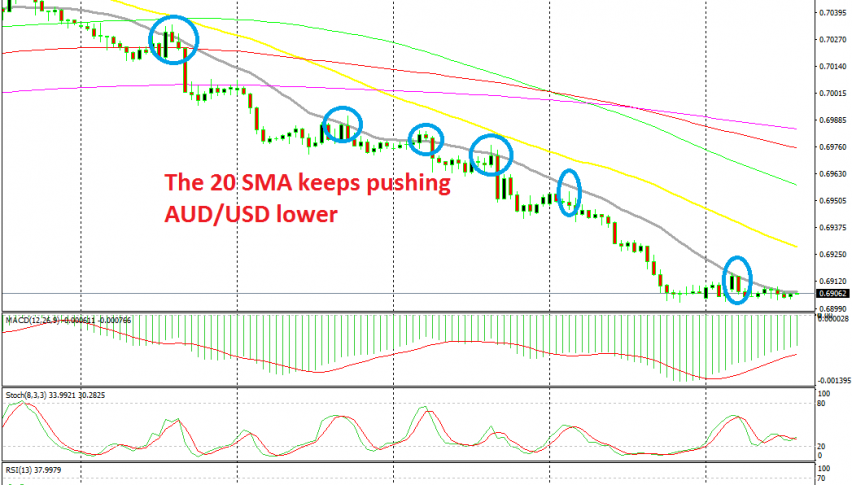 The Bearish Trend Picks Up Pace for AUD/USD as the 20 SMA Keeps Pushing it Lower
AUD/USD was performing quite well during June and the first two weeks of this month, as the USD entered a bearish phase, following FED's dovish reversal. During that period, this pair climbed more than 250 pips, from 0.6830 to 0.7080.
Although, the climb ended below the 100 SMA on the daily chart and last week this pair made a bearish reversal. The bearish momentum picked up pace as the week progressed. The sentiment also helped the sellers as the USD turned bullish last week, while risk assets such as Commodity Dollars turned dovish.
AUD/USD has now given back most of the gains and, looking at the H1 time-frame chart, we can determine that sellers are in total control. The 20 SMA has been providing resistance in the last several days, pushing this pair lower. In fact, there have been no retraces higher during this time, the declines have been followed by a consolidation period until the 20 SMA caught up and pushed the price down again.
Now the 20 SMA has caught up with AUD/USD, although I'm not sure whether to go short now. I would like to see a small pullback higher to the 50 SMA on the H1 chart before going in, but the buyers look pretty weak again. Anyway, I will wait a bit longer, perhaps we will get a retrace higher soon.