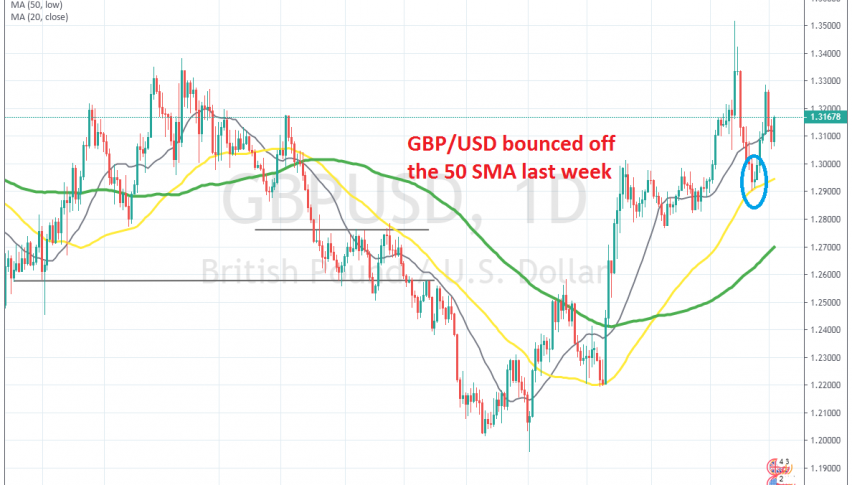 The Bullish Trend Continues for GBP/USD on the Daily Chart
GBP/USD turned pretty bullish in October when Boris Johnson announced new general elections in UK. Traders were betting on him winning a majority in the British parliament, which would make it easier for him to go ahead with Brexit and give the country a clear direction. That would still be better than the uncertainty that another Brexit extension would bring, hence the big bullish move that month.
The elections were held in December last year and the Conservative Party won a big majority, which sent this pair more than 500 pips higher. But, the reality kicked back in and traders quickly remembered that the UK economy has weakened a lot in 2019 and is still weakening, as in the rest of the globe.
This pair lost all the gains from the elections and dived back below 1.30. The price reached 1.29, but that's where the 50 SMA (yellow) was standing on the daily chart. That moving average stopped the decline and turned into a support indicator for GBP/USD.
The price formed a doji above the 50 SMA, which is a reversing signal and bounced off that moving average. The price reversed back down from 1.33 as the sentiment deteriorated in financial markets, following the killing of Soleimani, but yesterday this pair turned bullish again. Despite the bullish move at the end of last year being due to USD weakness because of year-end flows, the trend still remains bullish for this pair.