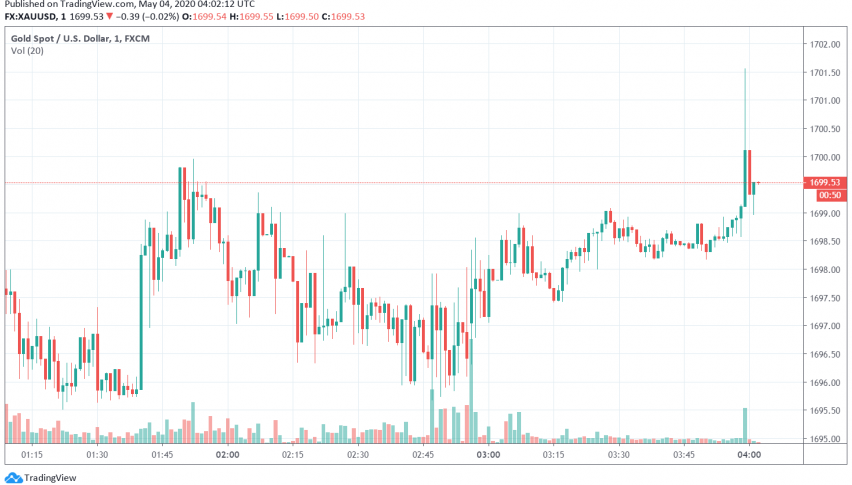 Gold Gains as Markets Worry About US-China Tensions Rising
At the start of a brand new trading week, gold prices are climbing higher as US President Donald Trump threatens to impose more tariffs against China over the coronavirus pandemic, which Trump alleges originated from a lab in China. At the time of writing, GOLD is trading at a little above $1,699.
Fresh trade tensions are back to haunt global markets, souring the mood and raising the safe haven appeal of gold all over again after Trump and other government officials reiterated their allegations that China failed to alert other countries about the pandemic in time and was responsible for the rampant spread of the virus worldwide. Trump stated last week that he is exploring ways to retaliate against China for spreading the virus globally and hiking tariffs was one option under consideration.
Gold has also turned bullish after Fed officials highlighted long-term risks to economic recovery if the US is not careful about resuming economic activity in the aftermath of the pandemic. Despite rolling out several stimulus measures, the US central bank has hinted that it could unveil more efforts to support economic recovery in the US, a sign that once again serves to boost the safe haven appeal of gold.
Gold has also gained on the back of disappointing economic data releases from Japan in the Asian session, with Tokyo's consumer prices experiencing the first decline in three years during April. Meanwhile, the Japanese manufacturing sector continues in contraction on account of the coronavirus pandemic.