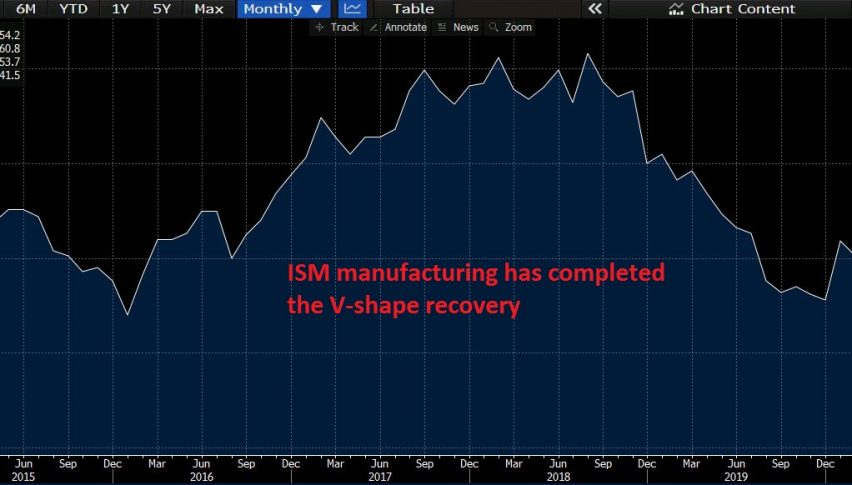 US ISM Manufacturing Posts Another Decent Increase in July
Yesterday was a manufacturing day. The figures from Europe increased again, showing that this sector definitely left behind the contraction from the coronavirus lock-downs. In the afternoon, the US ISM manufacturing report was released too and that showed an even stronger jump in July. So it seems like manufacturing is back to normal, which improved the sentiment somewhat in financial markets. Below is the US ISM manufacturing report:
ISM manufacturing PMI for July 2020.
ISM manufacturing PMI 54.2 vs. 53.6 estimate
New orders 61.5 vs. 55.1 estimate. Last month 56.4
Prices paid 53.2 vs. 52.0 estimate. Last month 51.3
Employment 44.3 vs. 42.1 last month
Inventory fell to 47.0 from 50.5 last month
Production 62.1 vs. 57.3 last month
Backlog of orders 51.8 vs. 45.3 last month
Supplier deliveries 55.8 vs. 56.9 last month
Customer inventories 41.6 vs. 44.6 last month
New export orders 50.4 vs. 47.6 last month
Imports 53.1 vs. 48.8 last month
A surprise to the upside, although employment remains an issue, since it is still in contraction. But, I assume the employment bill is helping keep the numbers low. The USD didn't benefit from the positive figures, instead it turned bearish after this report.