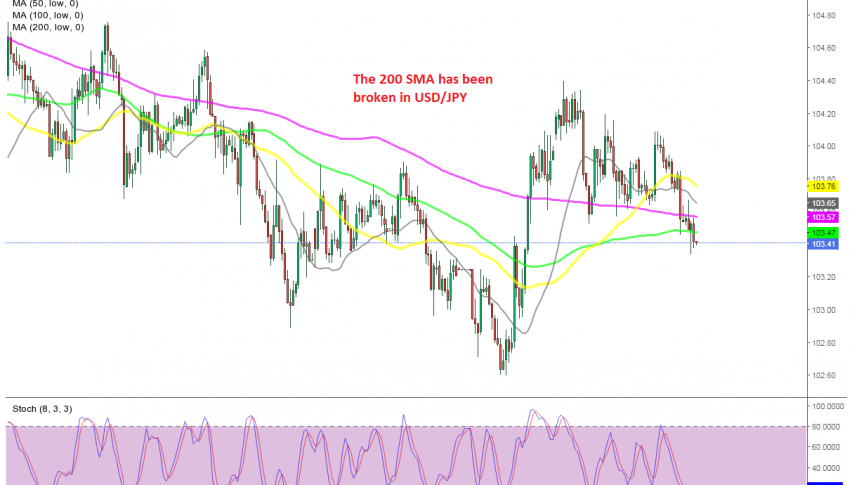 USD/JPY Remains Bearish, Despite BOJ's Kuroda Pledging to Spend More Cash
Yesterday we decided to buy USD/JPY, as this pair was retracing lower to the 200 SMA (purple) on the H4 chart, which has been acting as support for this pair during January. However, the inauguration of Joe Biden as the president of the USA yesterday sent the USD lower and the USD/JPY broke below the 200 SMA, although it didn't fall too much, sticking around the 200 SMA.
Today, Bank of Japan chairman Kuroda held a speech, pledging to spend more money if needed, but this pair is continuing to slip lower nonetheless. Below are Kuroda's comments:
BOJ Governor, Haruhiko Kuroda Press Conference
Will not hesitate to ease further if needed
Watching the impact of the coronavirus closely
Economic improvement to only be moderate
Downward pressure rising on the services sector
Inflation expected to stay negative for the time being, will eventually start rising
BOJ will continue efforts to support market stability
Downward pressure has increased after state of emergency measures
March review to examine effects of large-scale monetary easing
Will also analyze impact on financial mediation
The review will examine policy side effects and effectiveness
Not mindful of any specifics for the review at this point
Too early to consider an exit from powerful monetary stimulus
Fed, ECB also not headed for stimulus exit yet
Volatility in stock market remains high globally
Global stock market rise reflects recovery expectations
Sure, "recovery expectations"! And nothing to do with the printing press or in Japan's case, the continued ETF purchases by the BOJ themselves. There isn't anything too significant from Kuroda's remarks above. He is mostly just reiterating the BOJ's current stance with a few trivial comments about the economy. In case you missed it, the central bank kept thier policy unchanged earlier in the day.