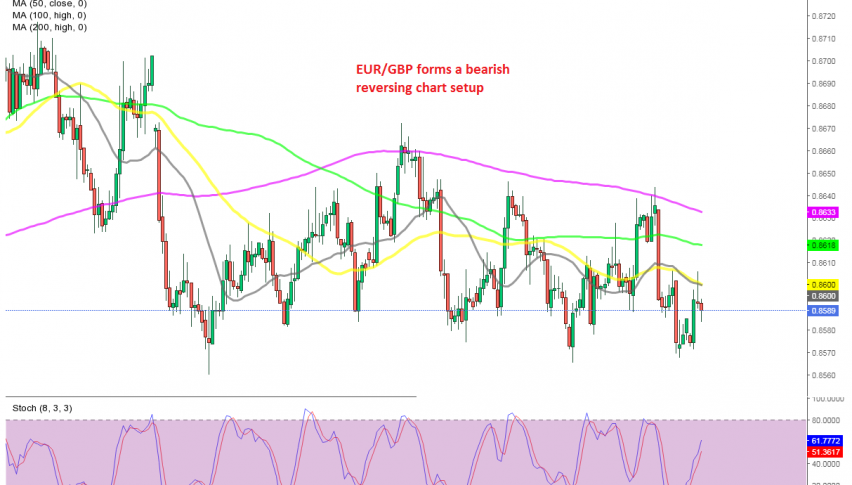 EUR/GBP Reverses Down, Despite the Improving Industrial Production
The EUR/GBP turned bearish this year, after the UK and the EU reached a trade deal in December last year, which made Brexit feasible. The sentiment turned positive for the GBP, which sent the EUR/GBP more than 7 cents lower. But for about a month, this pair has been trading sideways.
This month, the pressure is slowly turning bearish again, and today's reversal from the 50 SMA (yellow) on the H4 chart, after the positive Eurozone industrial production report confirms that. We missed the chance to open a sell forex signal at that moving average.
But we are following the price action to see if we can get a trade in the EUR/GBP, perhaps if the price climbs a bit higher, which would offer a better risk/reward ratio. Below is the industrial production report from the Eurozone.
Latest data released by Eurostat – June 14, 2021
April industrial production MoM +0.8% vs +0.4% expected
March industrial production was +0.1%; revised to +0.4%
Industrial production WDA YoY +39.3% vs +37.4% expected
Prior WDA production was +10.9%; revised to +11.5%
A solid beat and upward revisions as well, so overall that's a good report, as the Euro area industrial output shows a decent climb in April. Production of durable goods was up by 3.4%, capital goods by 1.4% and intermediate goods by 0.8%. The only downside was non-durable goods, which fell by 0.3% in April.