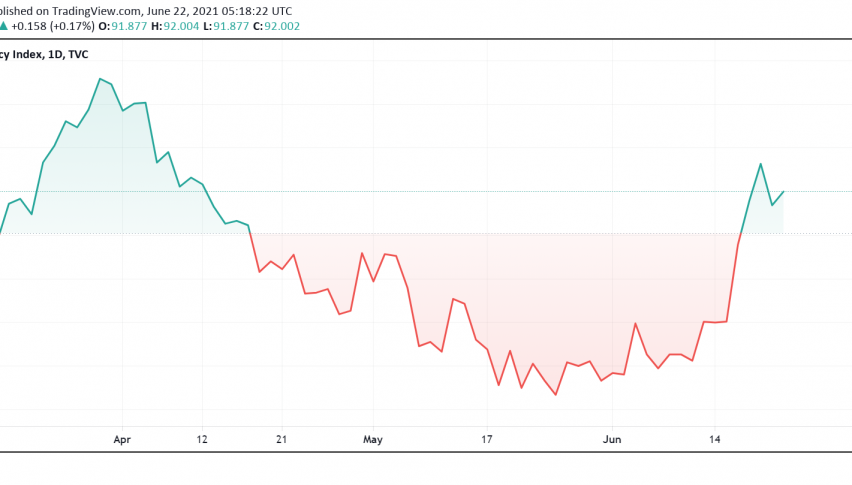 US Dollar Makes Cautious Moves as Markets Wait For Fed Chair's Comments
The US dollar is holding somewhat steady in wait of Fed chair Powell's congressional testimony due later in the day as they anticipate possible clues on the central bank's outlook moving towards dovish sooner than expected. At the time of writing, the US dollar index DXY is trading around 92.
Over the past week, the greenback has rebounded against its major peers following the FOMC statement which pointed towards the Fed shifting its stance and considering rate hikes as soon as 2023. However, ahead of Powell's statements, it has slipped slightly lower, with the DXY down by 0.5% over the previous session.
While Powell's statements could dictate moves in the US dollar later in the day, markets are likely to pay closer attention to the state of the US labor market in the coming weeks. With the Fed awaiting full rebound in employment and inflation before reversing its stance on monetary easing and inflation concerns ebbing, all eyes will be on employment related data coming out of the US to figure out a possible timeline for when the central bank could begin tapering its asset purchases.
Meanwhile, the reserve currency came under slight pressure in the previous session following somewhat subdued remarks from Fed officials. While New York Fed President John Williams remarked that it was too soon to consider a shift in monetary policy, St. Louis Fed President James Bullard also played down his hawkish comments from last week by stating that volatility could remain high in the aftermath of the pandemic fueled crisis.