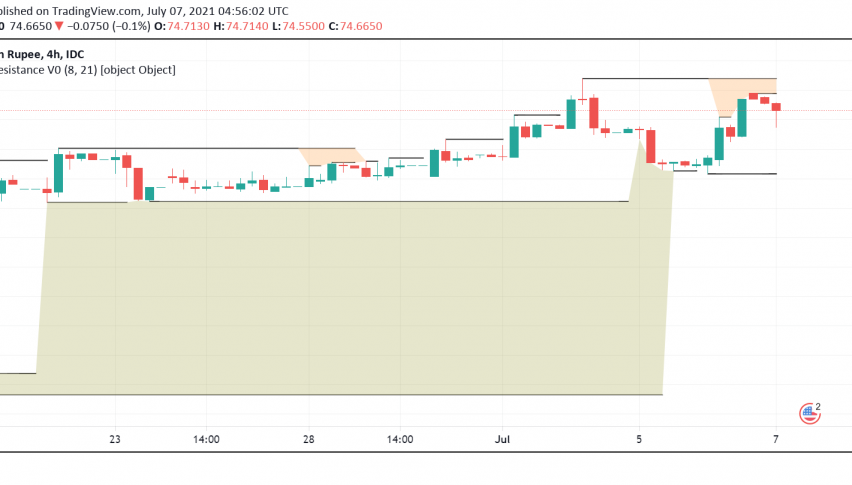 USD/INR Holds Above 74 Level as Indian Economic Outlook Clouded by Pandemic's Second Wave
The USD/INR currency pair is exhibiting signs of slight weakness on Tuesday, but remains above the key 74 level as the strength in the US dollar offsets the Indian rupee's bounce on the back of falling crude oil prices. At the time of writing, USD/INR is trading at around 74.66.
The weakness in the Indian rupee remains in focus even as the emerging economy reports a decline in fresh COVID-19 infections, suggesting that the second wave of the pandemic is coming under control. Despite most of the country reporting a drop in cases, restrictions continue in some states in a bid to control the spread of the delta variant even as health experts announced the discovery of a more contagious delta plus variant. This has hampered prospects for swift economic recovery and clouded the outlook for India, an economy which was forecast to register one of the fastest rebounds worldwide in 2021.
USD/INR is also trading bullish over reports of increased sell-offs among foreign institutional investors (FIIs) of Indian equities. The deadly second wave has shaken investor confidence in the Indian economy, reducing foreign investments and further clouding its outlook in the coming months.
USD/INR, however, is experiencing some downward pressure amid a sharp drop in crude oil prices, which proves beneficial to the INR. India is one of the top importers of crude oil globally and a fall in oil prices helps its economy spend less on the commodity, lending some support and strength to its currency.
The US dollar was higher and will end this week on the bullish track as traders awaited US inflation data later in the day, which might...
2 years ago
The broad-based US dollar will end this week on a bullish track as markets adopt a broadly calmer tone. Earlier this week, the United States
2 years ago