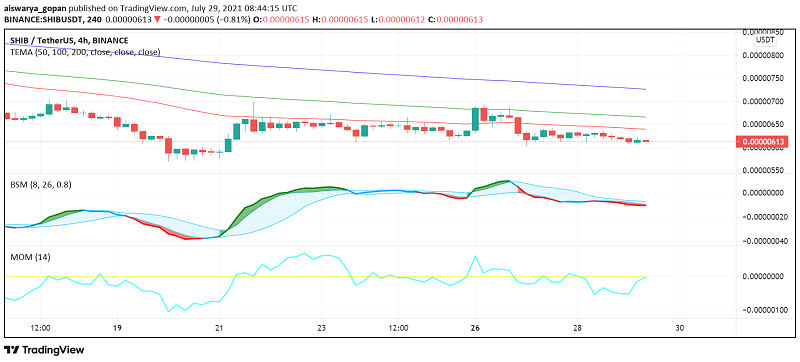 When Will the Downslide in Shiba Inu (SHIB) Turn Around?
There just doesn't seem to be any good news coming in for Shiba Inu traders; even when the mood in the crypto market lifted, the memecoin failed to make too many moves higher, and is continuing to trade with a bearish bias. At the time of writing, SHIB/USDT is trading around $0.0000061.
One of the most worrying indicators that reinforce the bearish mood in the SHIB token is its social sentiment, which has been on the decline over the past few weeks. There was a lot of interest in this coin during June after Tesla CEO Elon Musk had tweeted that he was getting a Shiba Inu, which many users took to meaning his focus was shifting from DOGE to SHIB. However, the sentiment weakened not only as cryptocurrencies overall started trading weak but also after Musk then moved on to promote another memecoin, Baby Doge Coin, taking away considerable social action surrounding the Shiba Inu coin.
The second most popular memecoin after Dogecoin has also been facing bearish pressure lately over a renewed interest in its key rival, which made considerable gains lately. DOGE got a boost from Musk's recent promotions, which again served to take the spotlight away from SHIB and kept it on its downtrend.
On a positive note, Shiba Inu could receive some support and reverse some of its losses over reports that eToro – the world's leading social trading platform, is considering listing the token for its users to trade. eToro's tweet on July 27 confirmed rumors that SHIB could get listed soon, and its addition could potentially drive up interest in the memecoin in the near future, although we still don't have a timeline on when it could happen.
Key Levels to Watch
On the H4 chart of SHIB/USDT, moving averages and the MACD indicator are exhibiting a strong bearish bias as they flash sell. On the other hand, the momentum indicator reveals some buying interest as well.
At the moment, the Shiba Inu's price is holding just under the pivot point which sits at the $0.0000063 level but is above the immediate support at $0.0000057. Further selling pressure can send the price lower towards the support and even lower to test the next support at $0.0000050.
However, if more buyers jump into the market to make the most of the low price, we could see SHIB rise above the pivot point and head towards the first resistance level at $0.0000076.