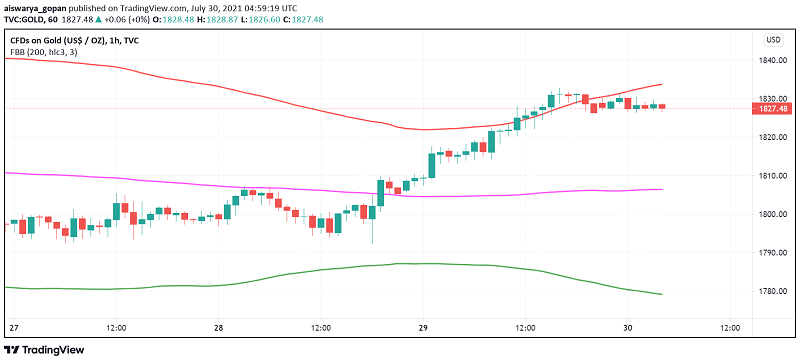 Gold Posts Big Gains This Week After Fed's Cautious Mood
Early on Friday, the safe haven metal gold is trading close to the highest levels seen since two weeks and look all set to post the strongest weekly performance in over two months on the back of Fed's cautious tones at the latest FOMC. At the time of writing, GOLD is trading at a little above $1,827.
While the precious metal had been trading under pressure over the past few weeks since June's FOMC which indicated rising interest among policymakers to consider withdrawing stimulus initiatives and hiking rates earlier than expected, the latest Fed meeting turned the sentiment around. The Fed chair's comments about how the labor market needs to improve further before the central bank can consider overturning their dovish stance not only boosted the appeal of the safe haven gold but gave it an additional boost by weakening the US dollar.
As we know, gold tends to gain whenever central banks adopt a dovish tone or decide to introduce more stimulus and keep interest rates low, as it indicates challenges for the economy and dents the market sentiment. In addition, the yellow metal also becomes more affordable to investors holding other currencies whenever the US dollar weakens, further boosting its demand in the market and keeping its price supported.
Gold was also driven higher after the US GDP for Q2 2021 came in below economists' expectations. While the US economy did post a robust growth of 6.5% YoY between April and June, economists had forecast a faster pace of growth at 8.5% instead, and the disappointing data further sent investors towards the precious metal.
According to a recent Reuters poll, the yellow metal's price is expected to hold above the $1,830 level on average until the end of this year. It could then start easing lower in 2022 as the global economic recovery becomes more assured and central banks reverse their dovish outlooks and start tightening monetary policies again.