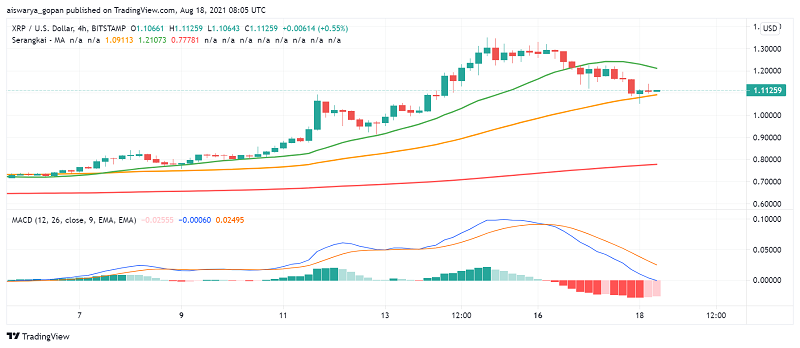 XRP Slides as Ripple Refuses to Hand Over Slack Communication to SEC
It's a bearish start to the day on Wednesday for Ripple's XRP which has lost more than 6.5% of its value amid a sell-off in the crypto market amid increased profit-taking and investors turning more wary of the unpredictable space as market sentiment turns risk-off. At the time of writing, XRP/USD is trading at around $1.11.
After several days of bullish run, crypto investors indulged in significant profit-taking, pulling out their funds before the mood turned against them, causing almost all cryptocurrencies, especially the majors, to post steep losses. The mood was further soured amid the rise in COVID-19 infections across the world weighing on investor confidence, driving them away from the riskier cryptos and towards the safety of the US dollar and gold instead.
Meanwhile, the XRP cryptocurrency came under further pressure over recent developments in the lawsuit between Ripple and the SEC. According to latest news reports, Ripple put forth a formal opposition to the SEC's request seeking a massive amount of employee communication over Slack. In addition, the company also filed a motion in the court to seal exhibits attached to SEC's motion and its response, in an aim to keep its Slack communication confidential as it contains sensitive business information.
According to Ripple's defense lawyers, "In responding to the SEC's blizzard of discovery, Ripple collected over 11 million documents, representing nearly 10 terabytes of data, reviewed over 300,000 documents for responsiveness, and produced over 165,000 documents. The SEC's demand is all the more unreasonable when considered against this backdrop."
Key Levels to Watch
Technical analysis of the H4 price chart of XRP/USD shows a bearish bias among the smaller moving averages and the MACD. On the other hand, the larger timeframe MAs and the momentum indicator are still supporting a bullish attitude among investors.
Ripple's XRP has slipped below the pivot point at $1.13 but is holding above the immediate support level at $0.91, which it could test in the event of further selling pressure. However, if more buyers enter the market at this point, we could see a turnaround in sentiment which could take the XRP's price past the pivot point and higher, until traders face resistance at $1.50.