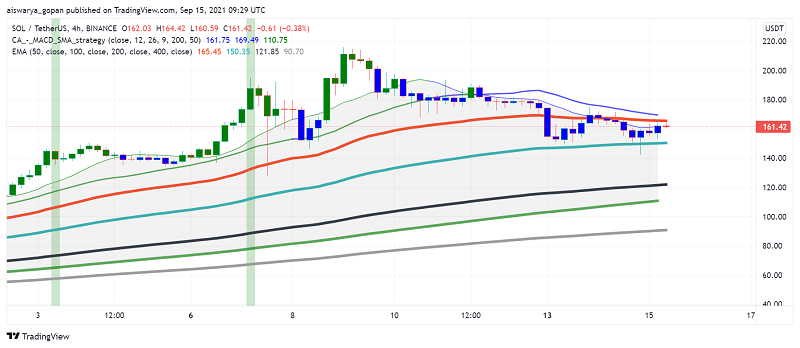 Solana (SOL) Still Weak After Tuesday's Outage
Solana (SOL) is still trading weak after the sharp slide in the previous session after its blockchain network suffered an outage over a denial-of-service after its transaction load peaked and the mainnet failed to handle them, causing a forking to begin and forcing the validator community to restart the network as a result. At the time of writing, SOL/USDT is trading around $161.42.
What We Know So Far About the Outage
The incident caused investor confidence in the superfast network to crash and drove a massive sell-off in the crypto market, bringing its price down by as much as 15% on Tuesday. In an official statement put out by the Solana Foundation on Twitter, it clarifies that the incident occurred after the transaction load on the blockchain surged to as high as 400,000 TPS, flooding the transaction processing queue and disallowing the network to prioritize critical messaging that caused the forking process to start.
Crypto and blockchain experts hypothesize that the issue could have been caused by a network of bugs that spammed the Solana blockchain to exploit a possible vulnerability which could bring down transaction fees. The network's CEO Anatoly Yakovenko also posted on Twitter stating that the outage was a result of "Raydium IDO bots trying to snipe the tokens at launch."
On the technical front, analysts expect the network outage to cause a price correction in Solana as it will take some time for investors to be convinced to come back towards the blockchain. It will take a little while longer for the potential Ethereum killer to regain confidence in the capabilities of the network that has risen in popularity over recent weeks as a strong contender against the most popular blockchain for DeFi and NFT projects.
On the fundamentals front, once the validators successfully complete the restart of the network and it resumes normal functioning, Solana could find some support news about Switzerland based digital asset issuer Valour adding a Solana ETP to its lineup. In addition, blockchain-focused VC company Eden Block has partnered with the Solana Foundation to announce up to $16 million in funding for growing the Solana ecosystem across Israel and Europe.
Key Levels to Watch
Technical analysis of the 4-hour chart of SOL/USDT, most of the moving averages and leading technical indicators MACD and momentum are suggesting a bearish bias. Although, the larger timeframe MAs point to some buying interest among investors too.
Solana's price is holding under the pivot point at $172.77 but is sitting well above the immediate support at $129.53. An increase in selling pressure will see the price slide towards this level, so keep an eye on it in the near-term.