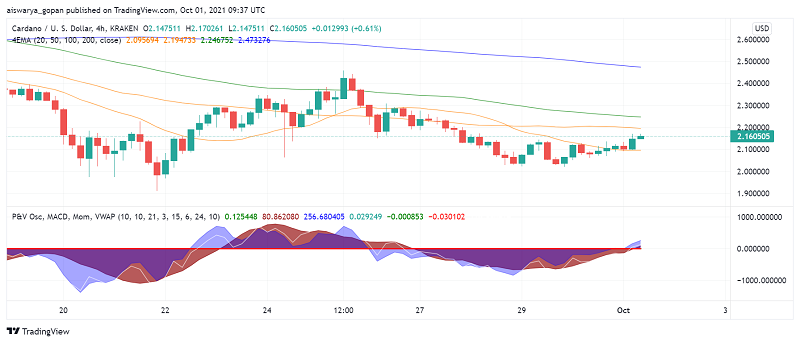 Cardano (ADA) Trying to Recoup Its Recent Losses?
Early on Friday, Cardano (ADA) is trying to shake off its downbeat mood after losing almost 2% of its value over the past week and reclaiming the third rank in terms of market capitalization, supported by several interesting partnerships being announced during the Cardano Summit. At the time of writing, ADA/USD is trading at around $2.16.
The wider crypto sector received quite the hit about a week ago when China announced its latest crackdown against cryptocurrency transactions. This drove quite the sell-off across the board, causing market leaders Bitcoin and Ethereum to plunge and remain weak since then, while also causing ADA to lose its value.
Notable Fundamental Developments That Can Support Cardano
However, there are several factors that can support a rally in this cryptocurrency once the market sentiment strengthens. One of the most interesting fundamental developments is the announcement of an upcoming stablecoin backed by gold which will launch on the blockchain. Cardano-based protocol MELD is planning to tokenize gold and offer it up for fractional ownership on the network, bringing as many as nine million users across Nigeria onto the blockchain.
Meanwhile, the fundraising platform on the blockchain Kick.io is releasing today, aiming to become Cardano's first fundraising and project accelerator platform, providing support to interesting projects being developed on its ecosystem. Kick.io will allow users to browse various projects and become early investors in the ones they wish to back, reaping enormous rewards once the projects they back take off and find success.
Institutional interest in Cardano also appears to be on the rise – a clear indication of its potential for growth in the coming months. Investment advisor for digital assets Wave Financial LLC recently acquired Cardano staking pool SkyLight which will now be operated via the company's Wave Pool. This acquisition will allow Wave's existing client base to stake their Cardano assets and leverage traditional ways to invest in cryptocurrencies and digital assets.
Meanwhile, Cardano has announced a new partnership with three time Grammy nominee Paul Oakenfold to launch his album as an NFT on its network. The popular DJ is collaborating with the blockchain's co-founder Charles Hoskinson on this initiative and will offer not only the album but also its cover art and notes as digital collectibles to fans.
Key Levels to Watch
Taking a look at the H4 price chart of ADA/USD, we find a bullish bias among the smaller moving averages as well as leading technical indicators MACD and momentum. However, the larger timeframe MAs point to some possible selling pressure as well.
Cardano's price is sitting under the pivot point at $2.19, although it is still holding above the key $2 mark and the immediate support at $1.92. If more buyers jump in now, we could see the price climb towards the pivot point and beyond.
Cryptocurrencies were showing strong bullish pressure in the first two months of 2023, but the bullish momentum has faded
2 weeks ago