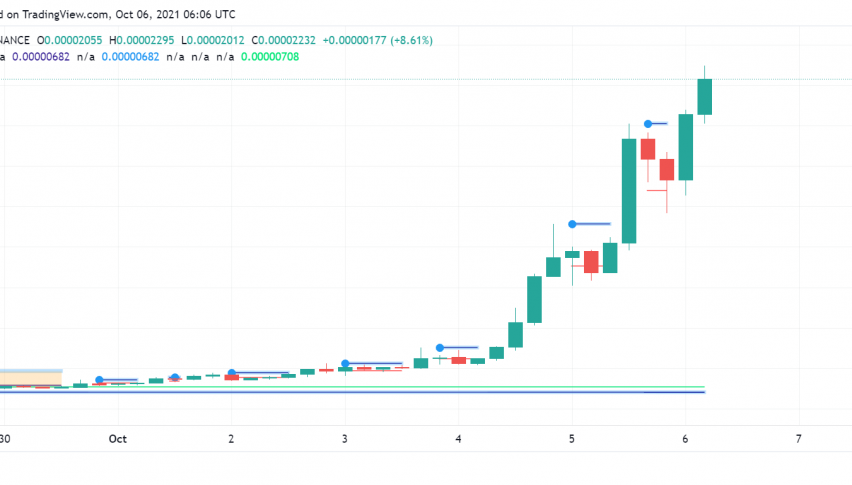 What's Driving the Rally in Shiba Inu (SHIB)?
One of the most popular memecoins in the crypto market Shiba Inu is on quite the rally, seeing its price surge by over 70% in the last 24 hours after Elon Musk's recent tweet and the strengthening in the bullish sentiment among investors. At the time of writing, SHIB/USDT is trading at around $0.0.000022.
The Shiba Inu coin has been experiencing a bull run since Monday after Tesla CEO Elon Musk tweeted an image of his pet dog Floki – a Shiba Inu, sitting atop a Tesla car. As one of the leading promoters of cryptocurrencies in general and especially memecoins like DOGE and SHIB, Musk's tweets have often been the trigger for significant volatility in them.
The latest spike came on the back of memecoin communities taking it as a clue that Musk could be gearing up to announce DOGE as a payment option for Tesla cars soon. This has driven up considerable interest in Dogecoin already, and as it shares a strong positive correlation with Shiba Inu, has contributed to its rally as well.
In addition, SHIB is also benefiting from the latest rally in Bitcoin prices which have crossed the key $50,000 level for the first time since a month. As the market leader among cryptocurrencies, the sentiment among investors is often dictated by BTC's price action, and in this case, the bullishness has triggered a buying spree across the board, driving interest in the Shiba Inu coin as well.
Several analysts have cautioned that the rally in SHIB could be the result of FOMO (fear of missing out) – a key factor they maintain is the main reason behind the popularity of such cryptocurrencies which have started as a joke in the first place. They maintain that they have no real value and use cases unlike the DeFi cryptos for instance, and as a result, only climb higher on account of sentiment. A coin like Shiba Inu captures the attention of several small time buyers whenever there is a rally in the market as it offers significantly lesser risk owing to its low price.