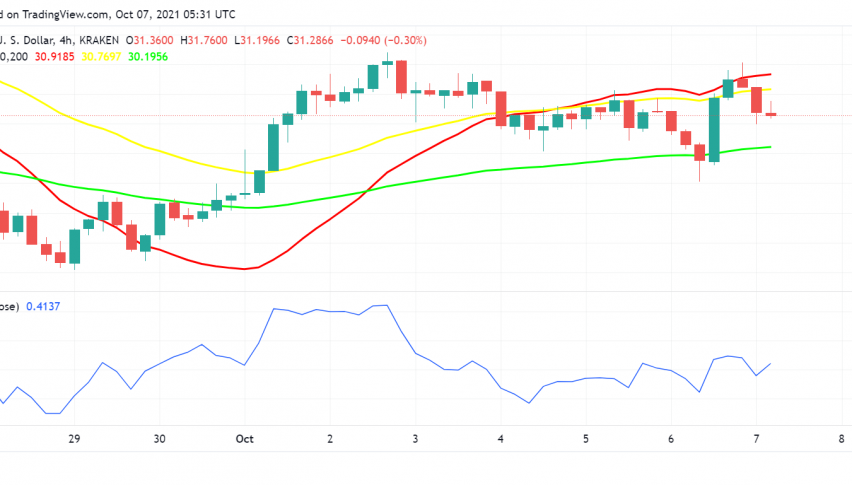 Will Latest Developments in Polkadot (DOT) Support an Uptrend?
Polkadot (DOT) is holding mostly steady after reclaiming the key $30 level a few hours ago, registering daily gains on the back of a positive mood among investors after market leader Bitcoin rose above the $55,000 mark in the previous session. At the time of writing, DOT/USD is trading at around $31.26.
eToro Lists DOT on Platform
One of the biggest fundamental developments supporting the potential Ethereum killer is eToro's listing of the DOT token on its platform. As the world's leading social trading platform, this move will allow its users to buy, hold and sell DOT via eToro. However, this listing is not available to US-based users of eToro at the moment.
eToro's decision to list Polkadot among its 31 crypto offerings comes on the back of increasing interest in trading this cryptocurrency among both retail and institutional investors. DOT's listing will give more crypto traders access to this token and drive up its trading volume, supporting an uptick in its value.
Latest Developments in the Polkadot Ecosystem
Meanwhile, multichain IDO platform Polkastarter released its latest update last weekend, bringing a host of new features to increase activity among the Polkadot community. Polkastarter V2 brings about an updated dashboard and more visually appealing UI to its users and also brings staking and IDO farming options to allow users to earn yields on their holdings. Polkaster gives cross-chain projects a platform to raise funding and has already received over $11 million in staking since the beginning of this week.
Another interesting development on the Polkadot ecosystem is DeFi aggregator Dot.Finance releasing its DAO governance framework, giving investors the opportunity to start voting on proposals. Token holders and stakers with a minimum of 2,500 PINK tokens can now participate in deciding the future strategy of the platform, a move that can drive up on-chain activity on the blockchain network and support DOT's price in the coming weeks and months.
Web3 wallet platform on Polkadot, Talisman, has raised $2.35 million in initial financing, and will use these funds to launch a wallet extension by late November. The DotSama wallet which combines Polkadot and Kusama will offer cross-chain compatibility across these networks aims to provide NFT support moving forward, in addition to bringing several other exciting features, including Shiden Dapp betting as well as third-part fiat on ramp-ups.
Key Levels to Watch
On the 4-hour price chart of DOT/USD, smaller moving averages and the MACD are suggesting a bearish bias. However, the larger timeframe MAs and the momentum indicator are pointing towards some buying interest as well.
Polkadot's price is sitting just above the pivot point at $30.53 and could see a test of resistance at $34.96 with sustained buying interest. However, an uptick in selling pressure can see the pivot point break and the price weaken towards the support level at $27.67.