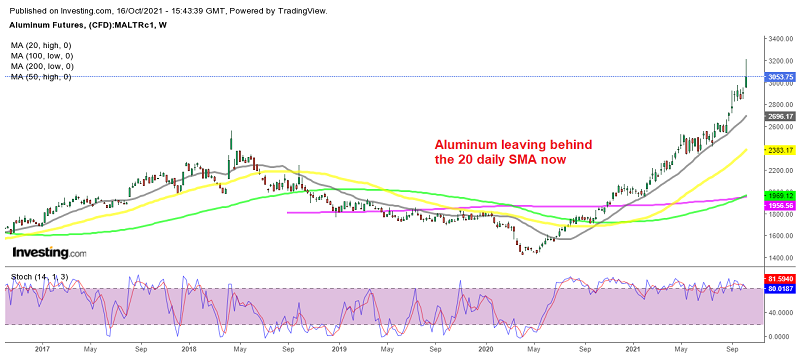 Metal Prices Following Energy Higher – Aluminum, Copper, Zinc Surging
Smelter curbs are setting up a shortage of base metals, which are surging. Zinc prices rose by as much as 12% today and nearly 20% in a week. Also in London, three-month LME copper jumped to $300, which is the highest since 1997.
Aluminum prices have been surging and that metal is extremely energy-intensive. Some of that demand might switch to copper, where possible. Alcoa reported earnings late yesterday and shares are up to $52 from $48.50. Of course, copper is energy-intensive in its own right.
I speculated about a possible PBOC rate cut yesterday, but that didn't come to pass. It's more a matter of 'when' than 'if' though, so stay tuned.
Another copper story is the run on UK warehouses. From Reuters:
LME inventory is much higher at 191,600 tonnes, but a spate of cancellations over the last three weeks means 70% of that metal is now awaiting physical load-out. The remaining live tonnage of 56,850 tonnes is the lowest since early March when the headline figure was itself much lower at 74,000 tonnes.
The nature of these cancellations – a near clockwork 10,000 tonnes per day since the start of the month – has raised eyebrows in the London market.
Looking at the charts differently, the aluminum chart at the top of this article shows great buying pressure since May last year. The uptrend has been quite straightforward, with the 20 SMA (gray) acting as a support indicator on the weekly chart. Since August though, this moving average hasn't been able to catch up, as the price has surged even more, now trading above $3,000.
Copper Futures Daily Chart Analysis
The 200 SMA held as support on the daily chart for copper
Copper futures are on a bullisbh trend as well, although not as bullish as aluminum. But, the bullish momentum has picked up in the last week or so, as copper bounced off the 200 SMA (purple) on the daily chart. In fact, moving averages have been doing a great job as support indicators on this timeframe chart. The smaller ones were pushing the price higher, while during this deeper pullback lower, the 200 SMA came to the rescue. Now, copper is threatening previous highs and should take them out soon.
Zinc Daily Chart Analysis – Jumping Higher This Week
MAs pushing zinc higher
The uptrend in zinc has been steady as well, apart from the last week. Moving averages were keeping the bullish trend going steady, until this week as it surged 20% higher. The larger MAs such as the 200 SMA (purple) haven't had a chance to catch up, while we have seen two big bullish gaps this week, with zinc leaving behind all moving averages now.