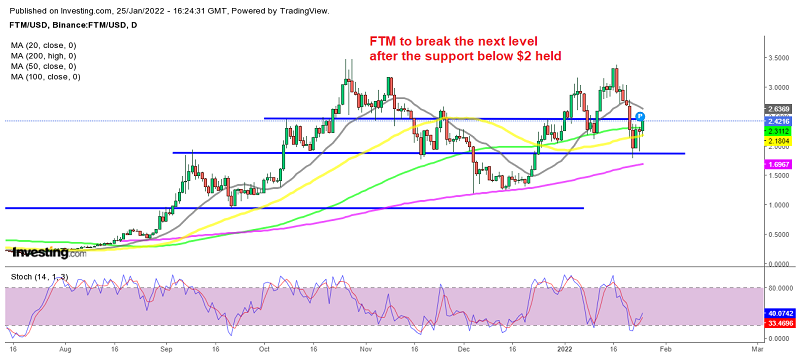 Fantom Crypto (FTM), Cosmos (ATOM) Resume Uptrend, Showing Increasing Bullish Pressure
The decline in the cryptocurrency market has stalled once again. The downtrend resumed early last week and all cryptocurrencies suffered some considerable losses, with Bitcoin falling to $33,000. But, the decline stopped and BTC is off the lows trading around $37,000. Certain cryptocurrencies have been showing bullish pressure on the other hand, such as Fantom and Cosmos ATOM, which have already started to resume the uptrend.
Fantom Popularity Increases as Transactions Reach 1.2 Million
Fantom is a very promising blockchain network and the fast expansion proves that, besides the interest for its native token FTM, which has been the most bullish among major cryptos in recent months. It keeps attracting investors, with Grayscale Investments being the latest one, which has updated its list of digital assets under consideration for 2021, including Fantom in it. Grayscale is planning on investing in several alternative Layer 1 blockchain tokens such as Algorand, Elrond, Fantom, etc, on top of existing coins such as Ethereum, Solana, Cardano. 
One of the main reasons for the relentless growth in Fantom is the growth of the DeFi (decentralized finance) sector, which has been exploding since the coronavirus pandemic. Fantom transactions have been increasing and they just surpassed Ethereum transactions, with over 1.2 million transactions yesterday alone. We highlighted yesterday that FTM/USD was showing buying pressure as the support below $2 held despite the crypto market suffering major losses. Now the price has reversed as the decline in the market has stopped and Fantom will be heading for all-time highs soon.
ATOM Rebounds Off the 200 Daily SMA Amid Airdrop
ATOM keeps making higher lows, indicating an uptrend
Cosmos ATOM is another cryptocurrency that has been showing bullish pressure since August. ATOM/USD retreated during November, but it turned bullish again in the second half of December and reached the all-time highs below $45, where it has formed a resistance level.
Last week we saw another pullback as the market retreated lower, but the retreat ended at the 200 SMA (purple) on the daily chart for Cosmos and in the last three days we have seen a bounce from there. Cosmos plans an airdrop soon, which benefits Cosmos stakers. There will also be a bridge implementation between Cosmos and Polkadot blockchains, which will make Cosmos more adoptable. So, the bullish pressure remains for ATOM which should head for the resistance zone and probably break it soon if the sentiment improves in the crypto market.