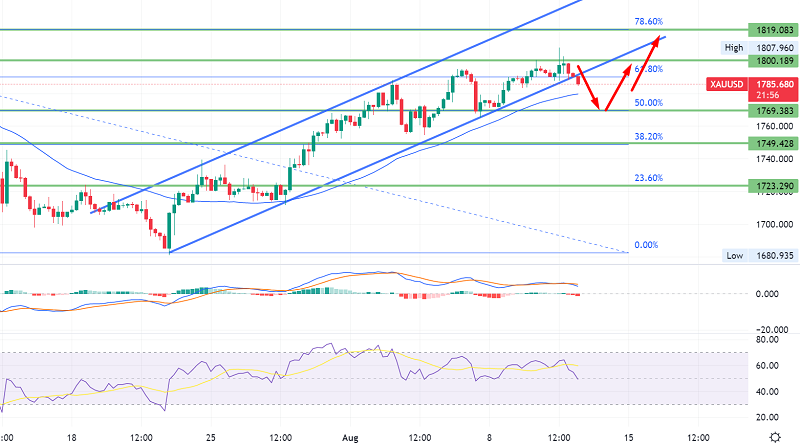 Gold Breaking Below Upward Channel – Why $1,770 Could be Support
The gold price has fallen to roughly $1,785.00 after losing the critical support level of $1,788.00 in the Asian session. After setting a new monthly high of $1,807.96 on Wednesday, the precious metal GOLD has started a healthy corrective phase.
Investors are selling gold after recognizing that a single month's lower US Consumer Price Index (CPI) might reduce the Federal Reserve's (Fed) hawkish direction but cannot eliminate the possibility of a rate hike in September. It should be noted that the plain-vanilla US CPI came in at 8.5%, which was lower than projections and the previous report of 8.7% and 9.1%, respectively.
Meanwhile, the US dollar index (DXY) has continued its rebound following a confident retreat, reaching near 105.40. Market traders are now focusing on the US Michigan Consumer Sentiment Index (CSI), which is coming on Friday. The mood index is anticipated to rise to 52.2 from 51.5 in the previous publication. Consumer confidence will likely rise in the coming months after falling to 50 for the first time in 20 years.
Gold Technical Outlook
The gold price moves negatively, breaking the bullish channel's support line and heading towards a probable test of the first significant level at 1779.25, backed by unambiguous positive indications from stochastic. At the same time, the EMA 50 meets the aforesaid support, adding strength to it.
As a result, we anticipate positive trades in the coming sessions, with the targets beginning with testing 1802.80 again and attempting to breach it to head towards 1831.95, while breaking 1779.25 will halt the expected rise and press on the price to achieve further decline and visit 1755.70 before determining the next destination.
Today's trading range is likely between 1770.00 support and 1805.00 resistance. Good luck!
Yesterday the FED delivered a hawkish pause with the DOT Plot pointing to more rate hikes, today the SNB and the BOE should hike by 25 bps
2 days ago